A handful of KSPA members, with the help of a KU-based testing group, began writing an assessment this month for many Kansas students who complete journalism and publications classes. The goal for the assessment, according to the testing group, is to offer "a way to measure high school students' readiness for post-secondary education or entry into the workforce."
On Jan. 21 and 22, the Career Pathways Assessment System (cPass) led a two-day meeting in Lawrence to start the two-year process of writing the assessment. In addition to cPass staff, the committee included a group of nine high school teachers, one journalism industry representative, one university instructor and a representative from the state department of education.
The assessment is aimed at juniors and senior high school students who complete numerous courses within the A/V Communications pathway. A pathway is a group of courses categorized at Career Technical Education (CTE). Many journalism and publication classes taught within high schools are both CTE courses and are part of the A/V Communications pathway.
Currently, there are ten pathways plus the general CTE assessment. Two additional pathways have begun, including A/V Communications.
As the assessment creation continues, the committee will grow. If you are interested in joining the committee, please contact cPass by email: mailto: [email protected].
The assessment is optional for students. At the conclusion of the test, the assessment evaluates students as either "exceeds expectations," "meets expectations," "approaching expectations" or "developing." The testing system allows for two kinds of assessments: computer-based assessments and field-based assessments.
KSPA members who are part of the beginning "blue print" committee are:
Lindsey Ross, Gardner-Edgerton High School
Michelle Huss, Blue Valley High School
Heather Hooper, Highland Park High School
Cindy Horchem, Piper High School
Laurie Folsom, Lawrence Free State High School
Kristy Nyp, Manhattan High School
Kathy Habiger, Mill Valley High School
Becky Tate, Shawnee Mission North High School
Kristy Dekat, Topeka High School
Molly Baker, Herff Jones Yearbooks
Eric Thomas, KSPA executive director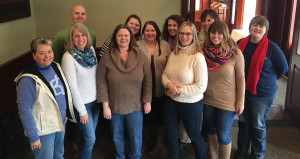 Members of the blueprint committee pose for a photo on Jan. 22 in Lawrence. First row, from left, Cindy Horchem, Kathy Habiger, Becky Tate, Heather Hooper, Molly Baker. Back row, from left, Eric Thomas, Michelle Huss, Lindsey Ross, Kristy Nyp, Kristy Dekat, Laurie Folsom.