New Policy on Artificial Intelligence in KSPA Contests
As we continue to work towards creating the best environment for learning and growth for student journalists in Kansas, we're introducing new measures to safeguard the integrity of KSPA contests from artificial intelligence.
This policy will apply to the Regional and State writing contests. Other policies may be developed in the future.
JEA celebrates 100th anniversary with gallery project and new student contests

The Journalism Education Association is celebrating its centennial in 2024 and wants to showcase members in a variety of ways and highlight individuals or groups on a special centennial website.One area of the site will present short clips members record and submit.
Please help contribute to the audio gallery, and please encourage others in JEA's community to participate as well.
FInd more ways to be apart of the JEA's 100th anniversary below:
In connection with JEA's upcoming centennial set to kick off Jan. 1, 2024, the Contest Committee has created three special student media contests that opened Dec. 1, 2023.
Each contest will feature a JEA member either through a profile story, photo or video. The Centennial Committee plans to use many of the contest submissions in JEA publications and/or on its affiliated websites to help showcase the many diverse faces of the JEA membership.
The contests are free to enter and entries will be submitted online. Each JEA member may submit one entry per category:
Contest 100A Writing — Stories of JEA: Life in Scholastic Journalism (profile story)
Contest 100B Photography — Images of JEA: Life in Scholastic Journalism (one feature photo)
Contest 100C Broadcasting — Stories of JEA: Life in Scholastic Journalism (video feature story)
Winning entries will receive ratings of Superior, Excellent or Honorable Mention. Unlike standard National Student Media Contests, entries will NOT receive a full critique.
Advisers should register students in advance of uploading contest submissions.
Contest submissions can be submitted by the adviser or student Dec. 1 through Jan. 31, 2024 at the 6 p.m. CST final deadline.
Supporting student journalism in Kansas


OUR IN-PERSON EVENTS THIS YEAR
Fall Conferences
It's like a national convention, but right here in the state of Kansas! Hear exceptional keynote speakers tell about their lives in media in journalism. Plus, choose from dozens of break-out sessions on every topic you can imagine!
2023 CONFERENCE DATES:
FHSU fall conference – Sept. 25 8:30 a.m.-12:30 p.m.
KU fall conference – Sept. 27 8:30 a.m.-1:30 p.m.
WSU fall conference – Oct. 3 8:30 a.m.-1:30 p.m.
Winter Workshops
Give you staff the chance to dig deeper on a topic or a skill during the KSPA Winter Workshops. These events, hosted at local universities, allow students to concentrate on one skill for the day. It's a great way to explore a new medium like audio or video with the help of university instructors, staff and students.
WHEN: February
HOSTS: KU, WSU, FHSU, PSU and more to come!

State Celebration
The KSPA calendar is filled with so many contests and critiques. This is the time to celebrate your success. Gather with student journalists and teacher from around the state to cheer on your staff. From Student Journalist of the Year to the Sweepstakes Winner from the State Contest, this event gives a shout out to all our winners!
WHEN: May 4, 2024
HOSTS: The University of Kansas

Monthly Contests
KSPA's Monthly Contests offer students a chance to get feedback and earn awards for their work during the school year, whether for their school's newspaper, news website, yearbook or broadcast program. We currently offer categories in four areas: writing, photography, design and multimedia.
WHEN: Submission is open until the last week day of each month
Regional Contests
The KSPA Regional Contests allow students to practice their skills, get feedback and earn awards. We offer categories for photographers, designers, writers, cartoonists, online journalists and videographers. Plus, students who place at Regionals can advance to the State Contest to earn points for their school and the Sweepstakes trophies!
WHEN: December, January & February
HOW: fully remote for 2023

State Contests
The State Contest allows students to compete against the best student journalists in Kansas for a state championship. After advancing from the Regional Contest, students submit their best work, using our challenging prompts, and again get feedback from our judges. KSPA will total up all of the points and crown a state championship for each of the six school classifications.
WHEN: March, April & May
HOW: fully remote for 2023

Providing support and leadership in scholastic journalism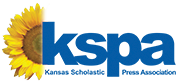 The Kansas Scholastic Press Association is a non-profit organization composed of Kansas scholastic journalism students and their teachers. The organization is committed to excellence in journalism at all levels and views its focus as one of providing journalism education leadership for Kansas teachers and students. The KSPA provides a support system through its contests, conferences and scheduled activities.
State contest entries
1,165
Regional contest entries
2,177
Fall conference attendance
1,060
Our Stories. Our Voices. Our Freedom.
Kansas students have extraordinary free expression rights, thanks to a landmark law passed in 1992. Students and teachers can learn about their rights and how the law was made in this documentary, produced by KSPA.
Watch it now.
_
Our partner institutions