CONGRATS!
KANSAS STUDENT JOURNALISTS OF THE YEAR 2023
Announcing Alena Gillespie, left, of Bishop Miege High School as our Overall and 3A/4A winner plus Grace Logan of Shawnee Mission Northwest as our 5A/6A winner.
Supporting student journalism in Kansas


OUR IN-PERSON EVENTS THIS YEAR
Fall Conferences
It's like a national convention, but right here in the state of Kansas! Hear exceptional keynote speakers tell about their lives in media in journalism. Plus, choose from dozens of break-out sessions on every topic you can imagine!
WHEN: September & October
HOSTS: KU, WSU, FHSU
Winter Workshops
Give you staff the chance to dig deeper on a topic or a skill during the KSPA Winter Workshops. These events, hosted at local universities, allow students to concentrate on one skill for the day. It's a great way to explore a new medium like audio or video with the help of university instructors, staff and students.
WHEN: February
HOSTS: KU, WSU, FHSU, PSU and more to come!

State Celebration
The KSPA calendar is filled with so many contests and critiques. This is the time to celebrate your success. Gather with student journalists and teacher from around the state to cheer on your staff. From Student Journalist of the Year to the Sweepstakes Winner from the State Contest, this event gives a shout out to all our winners!
WHEN: May 6, 2023
HOSTS: The University of Kansas

T-Shirt Design Contest
Put your design skills to the test. Enter the 2022-2023 KSPA T-shirt Design Contest for a chance to have your T-shirt sold to celebrate student journalism in Kansas. Plus, the winner will receive a $50 check and his/her shirt for free. It's a fun design challenge and a huge honor for the winner!
WHEN: Open until Oct. 7
Monthly Contests
KSPA's Monthly Contests offer students a chance to get feedback and earn awards for their work during the school year, whether for their school's newspaper, news website, yearbook or broadcast program. We currently offer categories in four areas: writing, photography, design and multimedia.
WHEN: Submission is open until the last week day of each month
Regional Contests
The KSPA Regional Contests allow students to practice their skills, get feedback and earn awards. We offer categories for photographers, designers, writers, cartoonists, online journalists and videographers. Plus, students who place at Regionals can advance to the State Contest to earn points for their school and the Sweepstakes trophies!
WHEN: December, January & February
HOW: fully remote for 2023

State Contests
The State Contest allows students to compete against the best student journalists in Kansas for a state championship. After advancing from the Regional Contest, students submit their best work, using our challenging prompts, and again get feedback from our judges. KSPA will total up all of the points and crown a state championship for each of the six school classifications.
WHEN: March, April & May
HOW: fully remote for 2023

Providing support and leadership in scholastic journalism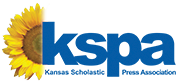 The Kansas Scholastic Press Association is a non-profit organization composed of Kansas scholastic journalism students and their teachers. The organization is committed to excellence in journalism at all levels and views its focus as one of providing journalism education leadership for Kansas teachers and students. The KSPA provides a support system through its contests, conferences and scheduled activities.
State contest entries
1,165
Regional contest entries
2,177
Fall conference attendance
1,060
Our Stories. Our Voices. Our Freedom.
Kansas students have extraordinary free expression rights, thanks to a landmark law passed in 1992. Students and teachers can learn about their rights and how the law was made in this documentary, produced by KSPA.
Watch it now.
_
Our partner institutions