Board of Directors
The office of the Kansas Scholastic Press Association is located at the University of Kansas in the William Allen White School of Journalism, but its Board of Directors is comprised of high school teachers from around the state.
Feel free to contact any member of the board for information regarding KSPA and its programs, contests and conferences.
Board Minutes
The KSPA board meets three times each year at locations around the state. At those meetings, the KSPA board secretary compiles minutes. At the following meeting the KSPA board votes on revisions to the minutes and approves them. Those notes and drafts of minutes are shared here.
2014 board meeting documents
2015 board meeting documents
2016 board meeting documents
2017 board meeting documents
2018 board meeting documents
KSPA is governed by a constitution and general operating procedures posted here.
Regional Map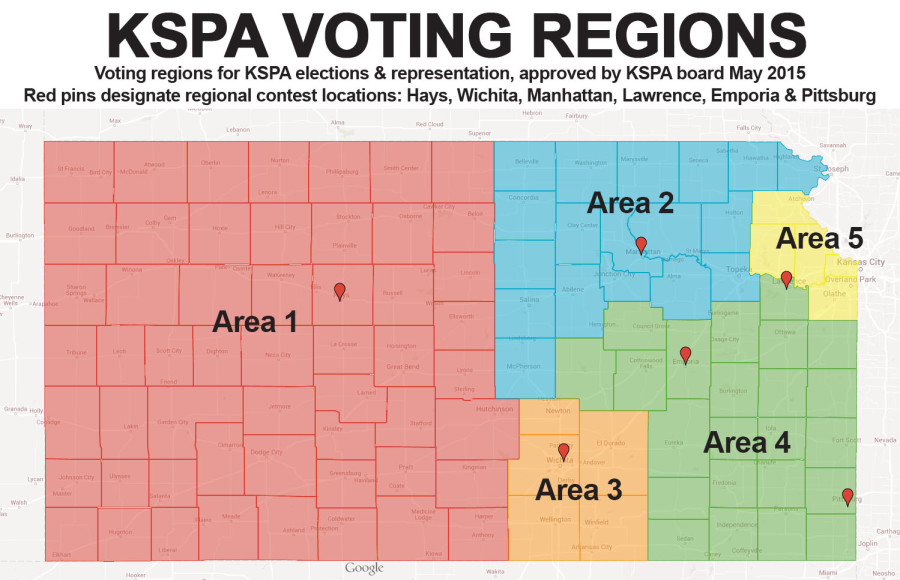 The KSPA board is comprised of advisers elected from five areas of the state as drawn by the executive director and approved the by KSPA board. Board members elected in April 2014 and earlier represented schools based on this map.
KSPA Board 2017-2018
PRESIDENT 
Jessica Bowman (term as president ends May 2019)
Hillsboro High School
400 E. Grand
Hillsboro, KS 67063
PRESIDENT-ELECT 
Kristy Nyp (assumes role of president May 2019)
Manhattan High School
2100 Poyntz Avenue
Manhattan, KS 66502
(785) 587-2114
(Chairs Contest Committee)
PAST PRESIDENT 
Kathy Habiger (term as past president ends May 2019)
Mill Valley High School
5900 Monticello Road
Shawnee, KS 66226
913-422-4351
(Chairs Nominations Committee)
SECRETARY
Amy Morgan (term ends May 2019)
Shawnee Mission West High School
8800 W. 85th St.
Overland Park, KS 66212
913-993-7800
Area Representatives
AREA 1 REPRESENTATIVES
Jason Curtis (term ends May 2020)
Lincoln Junior-Senior High School
110 E. Franklin
Lincoln, KS 67455
(785) 479-0268
Todd Vogts (term ends May 2019)
Sterling High School
308 E. Washington St.
Sterling, KS
(620) 278-2171
AREA 2 REPRESENTATIVES
J.D. Garber (Term ends May 2020)
Salina Central High School
650 E. Crawford
Salina KS 6401
(785) 309-3578
Heather Hooper (term ends May 2019
Topeka High School
800 SW 10th
Topeka KS 66612
AREA 3 REPRESENTATIVES
Joanna Chadwick (Term ends May 2020)
Derby High
920 N Rock Road
Derby, KS 67037
316-788-8500
Jeff Welch (Term ends May 2019)
Wichita High School South
701 W 33rd St. South
Wichita, KS 67217
(316) 973-5597
AREA 4 REPRESENTATIVES
Emily Smith (Term ends May 2020)
Pittsburg High School
1978 E. 4th St.
Pittsburg, KS 66724
(620) 249-7895
Linda Drake (Term ends May 2019)
Chase County Jr.-Sr. High School
600 Main Street
Cottonwood Fall, KS 66845
(620) 273-6354
AREA 5 REPRESENTATIVES
Diana Klote (Term ends May 2020)
Blue Valley North High School
12200 Lamar Ave.
Overland Park, KS 66209
(913) 239-3247
Jim McCrossen (Term ends in May 2019)
Blue Valley Northwest High School
13260 Switzer
Overland Park, KS 66213
913-239-3544
MEMBER AT-LARGE REPRESENTATIVES
Dan Loving (Term ends May 2020)
Maize High School
11600 W. 45th St. North
Maize, KS 67101
316-214-3006
Non-Voting Members of the Board
JEA LIAISON
Susan Massy
Shawnee Mission Northwest High School
12701 W. 67th St.
Shawnee, KS 66216
913-993-7286
MIDDLE SCHOOL LIAISON
Laura Hayden
Derby Middle School
801 E. Madison
Derby, KS 67037
(316) 788-8580
EXECUTIVE DIRECTOR
Eric Thomas
University of Kansas
317 Stauffer-Flint Hall
1435 Jayhawk Blvd.
Lawrence, KS 66045-7515
785-864-7625