About the Award
This award encourages Kansas junior high/middle school students to continue with journalistic studies in high school. This award will acknowledge and reward the work of junior high/middle school students. One overall winner and up to three runners-up will be selected each year. The overall winner will continue on to national competition representing Kansas at the spring JEA/KSPA convention.
Winners
About Mary Patrick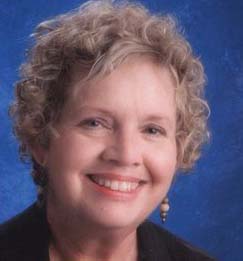 Mary Patrick served as the long-time yearbook adviser at Maize South Middle School before her retirement in 2016. Patrick's yearbook staffs won numerous All-Kansas Yearbook awards from KSPA and Pacemakers from NSPA. Patrick also earned the Lifetime Achievement Award from the Journalism Education Association, the Pioneer Award from the National Press Association and the Hall of Fame Award from KSPA. Patrick served Kansas students through annual middle school workshops and the middle school mail-in contest. Additionally, she served on the KSPA board for many years until her retirement in 2016.
At that time, the board unanimously voted to name the award after Patrick in honor or her selfless service and excellent teaching.
Award Recognition
The first-place winner will be honored  — if in attendance — during the Saturday morning Kansas Scholastic Press Association awards ceremony held in May at the University of Kansas. KSPA provides a full scholarship to a journalism workshop in the state of Kansas for the winning student. This scholarship may be used at any time through the high school graduation of the student. The first-place winner will receive also a plaque.
Winners not in attendance will receive a mailed certificate. Winners and runners-up will be recognized on the Kansas Scholastic Press Association website.
Entry Criteria
The applicant must:
Be in eighth grade (ninth grade for 7-9 middle school programs) and at least 13 years old.
Be planning to continue the study of and participation in journalism in high school.
Have been in a junior high/middle school journalism program for at least one year.
Submit a portfolio. Each student entered must have an individual portfolio but schools may enter more than one student. Items to be included in the portfolio are part of the application linked below.
Deadline & Submission
DIGITAL DEADLINE: Must be received by Feb. 20 if uploaded on this form. The form contains instructions about file types.
MAILED DEADLINE: Must be postmarked Feb. 20 if mailed. Please mail to: Mary Patrick, 3 Shenandoah Drive, Goddard, Kansas 67052
Make sure you keep your own copies of everything as these items will not be returned.
Questions?
Contact Mary Patrick at [email protected]
Judging Criteria:
The following categories will be given a score (1-4) based on quality, scope and impact.
Skilled and creative use of media.
Inquiring mind and investigative persistence.
Courageous and responsible handling of issues.
Variety of journalistic experiences.
Sustained and commendable work with school media.
4 = Exemplary
3 = Excellent
2 = Fair
1 = Adequate
Quality: Does the material presented in this portfolio demonstrate superior quality of work in the category over a period of time?
Scope: Does the material presented in this portfolio demonstrate a wide range of quality work in the category over a period of time?
Impact: Does the material presented in this portfolio document the impact of this student's journalistic work in the category over a period of time?
Application
Only one of the following applications needs to be completed, depending on the submission method: mailed or digital.