About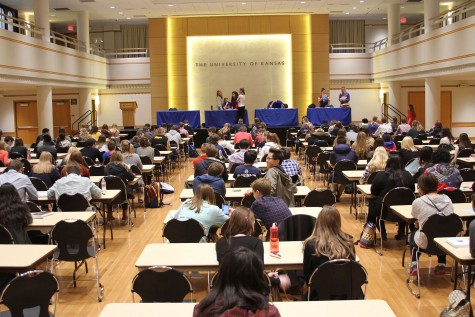 The Kansas Scholastic Press Association:
providing support and leadership in scholastic journalism
The Kansas Scholastic Press Association is a non-profit organization composed of Kansas scholastic journalism students and their teachers. The organization is committed to excellence in journalism at all levels and views its focus as one of providing journalism education leadership for Kansas teachers and students. The KSPA provides a support system through its contests, conferences and scheduled activities.
Join the KSPA
Go to the Membership page to join the most local, active and expert group of journalism educators around!
KSPA's History
The Kansas Scholastic Press Association has a proud history of serving scholastic journalism programs in the state. Prior to the founding of KSPA in the early 1970s, the Kansas Organization of Press Advisers (KOPA) was the state press group that served advisers.
Housed at the University of Kansas for its entire history, KSPA has been led by only four directors: Dana Leibengood, Jackie Engel, John Hudnall and Jeff Browne. KSPA is unique in many aspects, but the most obvious are the on-site regional and state competitions. These competitions, in 21 areas of journalism at State, help keep the organization and its members involved and active.
As early as 1925, others states looked to Kansas as the standard. William M. Albergotti, principal of Greer High School in South Carolina, called for an association of schools that sponsored high school newspapers. Albergotti began his push for such an organization by securing information from existing organizations. He cited the Kansas model as an example of an ideal structure for a high school press association in South Carolina.
In 1994, the Freedom Forum published its review of scholastic journalism, "Death by Cheeseburger." In that publication, the Kansas Scholastic Press Association was cited as one of seven leading press associations in the country.