The Kansas Scholastic Press Association congratulates Shawnee Mission East senior Riley Atkinson on winning the statewide honor of the 2021 Kansas Student Journalist of the Year. Atkinson is co-editor-in-chief of the Harbinger Online, the school's news website.
The overall winner is chosen among the winners of three different enrollment classifications: 1A/2A, 3A/4A and 5A/6A. In the other divisions, Alyssa Andoyo of Chanute High School was named 3A/4A Student Journalist of the Year. There were no entries in the 1A/2A classification this year.
A panel of judges chose Atkinson's work from among a collection of portfolios submitted by KSPA member schools. The judges are high school publications advisers, university instructors and former scholastic press professionals.
KSPA thanks all of the student journalists from around the state who applied for this award. It takes dozens of hours to construct such a portfolio and gather the necessary materials. Simply applying for this award is a huge accomplishment.
Riley Atkinson: 5A/6A Winner and Overall 2021 Student Journalist of the Year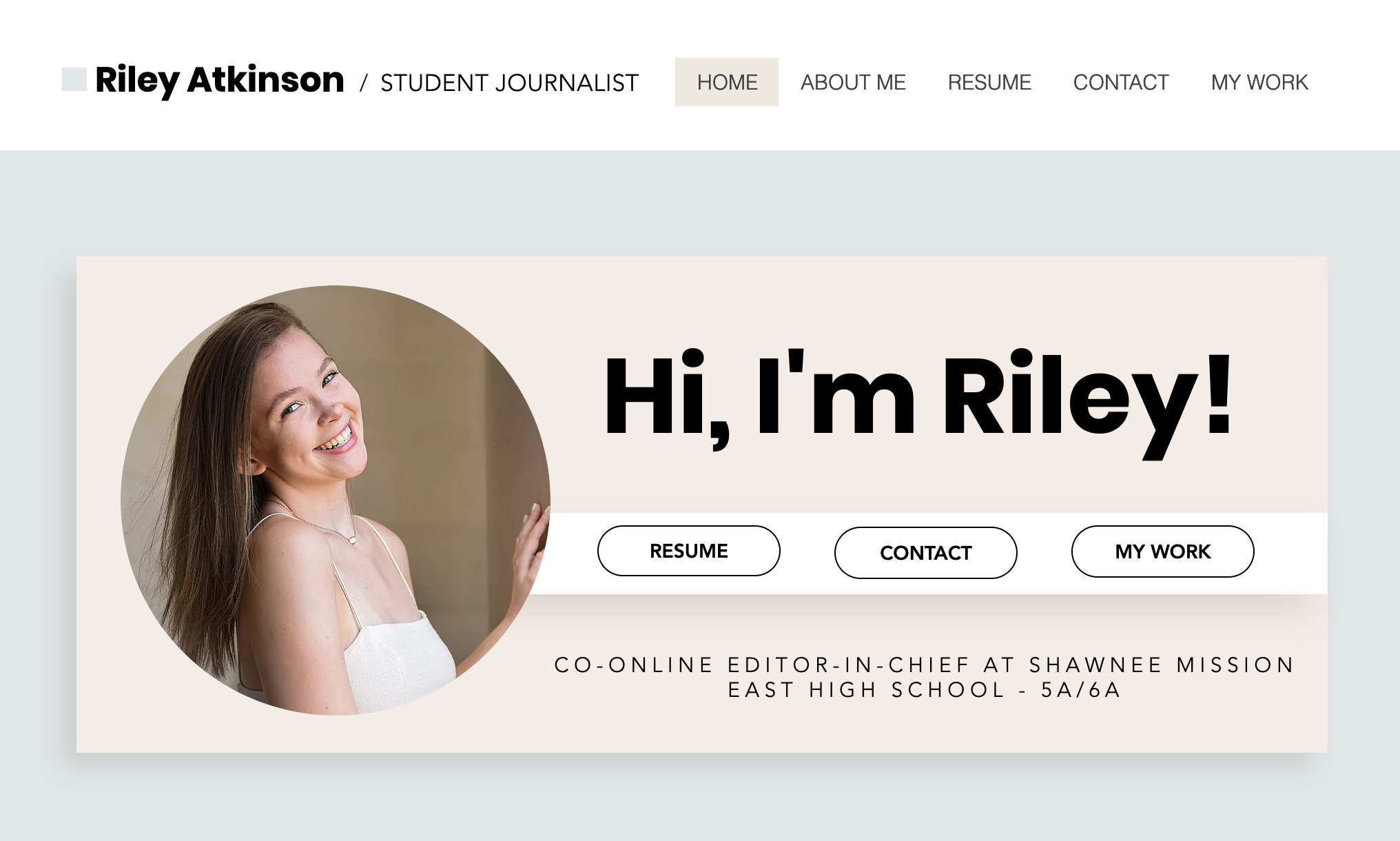 The work in Atkinson's portfolio shows a two-fold commitment: to reporting on the most vital issues of her community today and an energy to help others on staff with their development. Her reporting on students flaunting COVID regulations, Black Lives Matter protests and people of nearly every age and background showed the judges maturity and compassion. Meanwhile, her work to lead a staff of more than 70 fellow students — and her care in documenting that effort — was another quality the judges valued.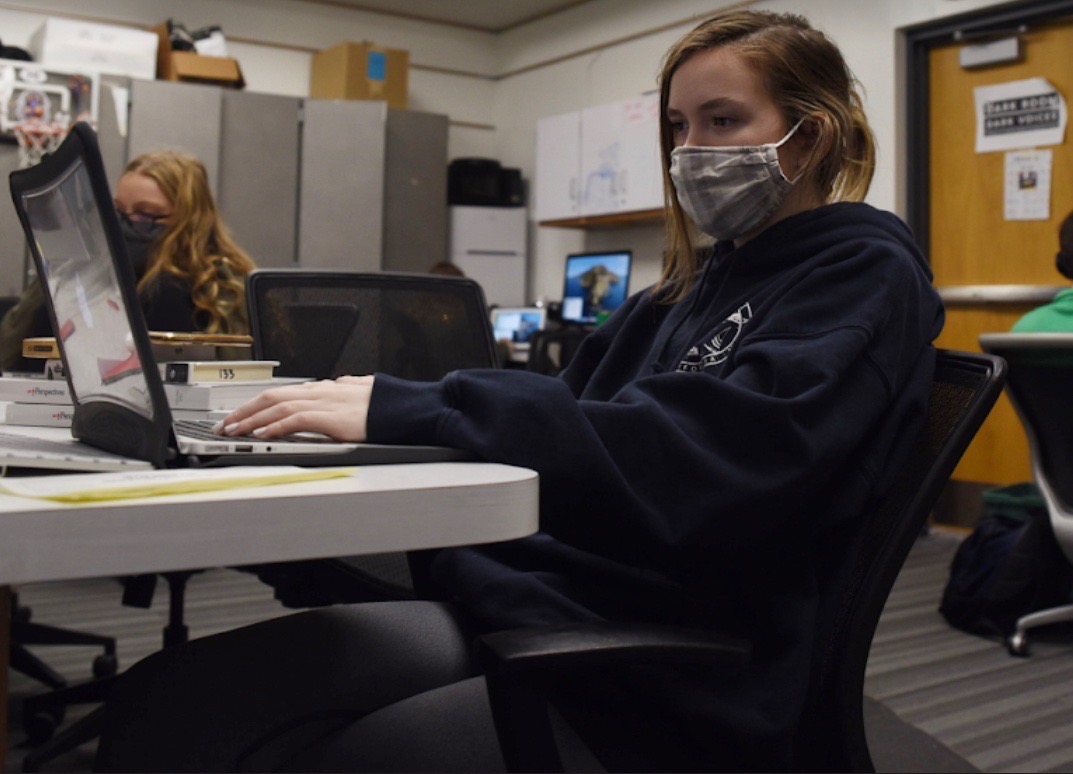 The judges reviewed Atkinson's application and provided these compliments:
"A superlative portfolio from a superlative journalist. Amongst the best student portfolios I've ever seen."

"T

he voice that comes through this applicant's writing is impressive, no matter the type of story. Stories are well-researched and reported. There's a great depth and breadth to the reporting here.

"
"You can tell that when she tackles a story, she doesn't do it halfway.  The written stories are nicely thought out and provide a lot of depth into the issue.  No overviews with her examples used.  I also appreciated the fact she got out in the community with the protests in Prairie Village.  Many student journalists wouldn't do that.  These don't feel like 'student' stories, which is great!

"
Atkinson's essay tells the story of the couch in the journalism room and how its upgrade — from tattered to new — is a symbol for her transformation as a writer and student journalist.
"Freshman-me sitting on that run-down couch would've awkwardly laughed if you were to tell her that she'd be leading a national-award-winning staff of 70. Now, I'm an Editor-in-Chief. I sit on the shiny, new couch with shiny, new confidence — I no longer come into the J-room, or any room, with shaking hands and a trembling voice."
Atkinson writes about a feeling familiar to many student journalists: the questioning from her friends about why she is so dedicated to her work.
"My non-journalism friends would always nag me with the question, 'Why do you keep torturing yourself with this?' as my to-do list overflowed with newspaper-related tasks, and I'd always respond, 'You don't get it; it's addicting.' Storytelling has been my favorite part of high school, and I'll carry this experience with me throughout my life."
Riley's adviser Dow Tate praised Atkinson for her work in keeping the student news going during the difficulties of COVID and noted her sensitivity in covering nuanced stories during the pandemic and the Black Lives Matter protests of 2020.
"Riley Atkinson's non-stop drive to keep the student voice alive on the paramount issues dealing with COVID and social unrest all while stabilizing a staff amidst a quarantine during a pandemic has been impressive to watch."

Fellow student Campbell Wood said this in her nomination letter of Atkinson:
"The leadership and empathy she carries with her on staff has laid a foundation for the community we cherish on Harbinger. Her friendly and open-minded attitude makes her approachable to even the jittery, first-day freshmen. With the new staffers, Riley sets an example in her commitment to the publication. Her Harbinger press pass is a full-time resident around her neck where you see it dangling as she runs across the gym to get an interview with one of the basketball players or goes for a late-night Starbucks run so she can stay awake during deadline night."
The board and staff of KSPA congratulate Atkinson on her award-winning application and portfolio. We wish Riley the best luck in the upcoming competition for national student journalist of the year.
Atkinson was interviewed as part of the "Kelly Clarkson Show" that aired in June 2021.
Alyssa Andoyo: 3A/4A Student Journalist of the Year
Andoyo's portfolio is a collection of writing, photography, editing and design from her years in high school at Chanute. Her most recent and impressive accomplishments come in transforming her school's newspaper into a news magazine. She has also been a part of Chanute's KSPA state sweepstakes winning teams in 2019 and 2020 with entries placing high in the contest both at Regional and State for the past three years.
The judges reviewed Andoyo's application and noted its quality:
"Alyssa has a good solid foundation at this stage in her career. Good job showcasing different tools in the tool belt with writing, photography, design, and videography." 

"You've got a good eye for use of color and fonts to make effective spreads and pages. Entry incorporates some fun, creative, yet familiar ideas into her designs that makes pages fun to explore."

"

A nice variety of stories were included in the portfolio. The topics were certainly relevant to the readers of the publication at your school"
In her essay, Alyssa remembers a ropes course in elementary school and compares it to the challenges — and fears — that she had to overcome in becoming the top editor of her school's print publication. As the school newspaper became the school magazine, Andoyo had familiar misgivings.
"The realization finally dawned on me that getting rid of the school newspaper really meant getting rid of the school newspaper. Everything I had grown comfortable with in the past few years would have to be reimagined. And then the thoughts creeped back into my mind: uncertainty, fear, embarrassment. These new freedoms seemed more daunting than the old limits. The limit on color in the newspaper was soon replaced with balancing all the colors on a single page, and the limit on page order in the newspaper was reinstated with not-knowing where any page went."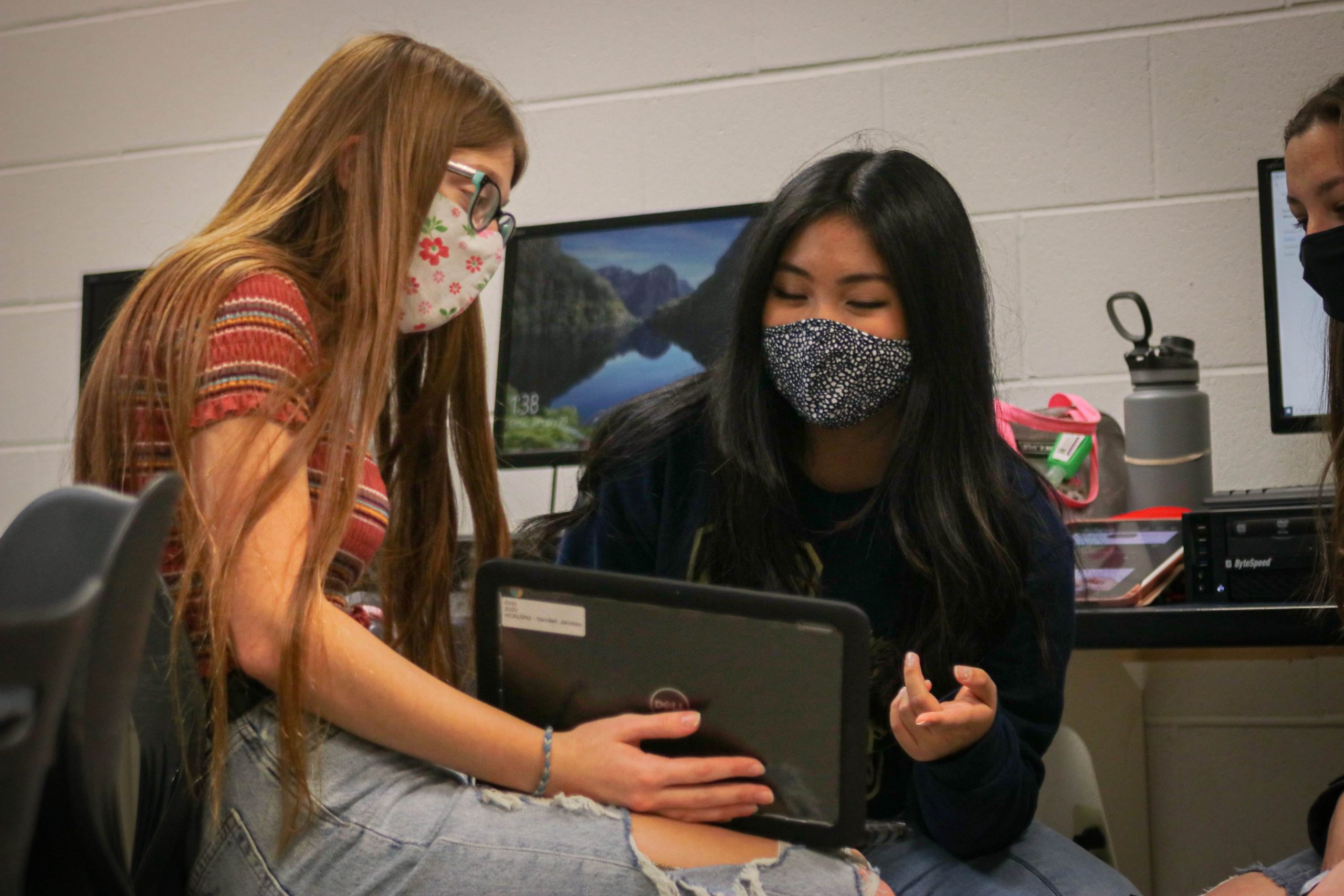 Having watched Alyssa through this work and the previous years on staff, adviser Dustin Fox reminded the judges in his letter of recommendation that Alyssa did all of this re-design work in the midst of a disruptive pandemic.
"As quarantines for our staff members came and went, the one constant through it all was the diligence of Alyssa. Alyssa's fingerprints are all over Chanute High School's first-ever incarnation of a news magazine. She led idea sessions that resulted in the name (The Octave, named after Octave Chanute, our town's namesake), planned the issue, wrote stories, designed spreads, created graphics, drew unbelievable illustrations, edited stories, provided guidance and feedback, and, through it all, led an inexperienced staff and a wary adviser on a new journey. Given the circumstances, that first issue was the single most impressive accomplishment we have ever had in our decorated journalism program's history—and it does not happen without Alyssa." 
Tyler Applegate, an assistant principal at Chanute High School, commented on how many talents Andoyo displays:
"Alyssa's involvement in a variety of sports, clubs, and high level classes, show her willingness to challenge herself to reach her potential. Not only is she involved, but she seeks out leadership opportunities. As captain of the cheer team, editor of the school paper, and the student government president, Alyssa has shown herself to be a capable leader among her peers."
The board and staff of KSPA congratulates Alyssa Andoyo as the 2020 3A/4A Kansas Student Journalist of the Year.
Check out the video below of Alyssa being surprised at a Friday night basketball game with the announcement of her earning the award.