The Kansas Scholastic Press Association congratulates Cuyler Dunn on winning the statewide honor of the 2022 Kansas Student Journalist of the Year. Dunn is co-editor-in-chief of The Budget, the school's newspaper.
The overall winner is chosen among the winners of three different enrollment classifications: 1A/2A, 3A/4A and 5A/6A. In the other divisions, Savannah Athy-Sedbrook of Augusta High School was named 3A/4A Student Journalist of the Year and Emma Alderman of Wabaunsee High School was named 1A/2A Student Journalist of the Year.
A panel of judges chose Dunn's work among a collection of portfolios submitted by KSPA member schools. The judges are high school publications advisers, university instructors and former scholastic press professionals.
KSPA thanks all of the student journalists from around the state who applied for this award. It takes dozens of hours to construct such a portfolio and gather the necessary materials. Simply applying for this award is a huge accomplishment.
Cuyler Dunn : 5A/6A Winner and Overall 2022 Student Journalist of the Year
The work in Dunn's portfolio shows a clear commitment to outstanding leadership skills and reporting hard yet effective news stories to the students of Lawrence High School. Dunn's teaming up with co-editor Kenna McNail to write a news story covering their football team's violation of COVID-19 protocols showed the judges his willingness to cover controversy for the sake of journalism. Dunn's addition of the editor-in-training program designed to bridge the gap between staff responsibilities and the role of an editor left the judges more than impressed.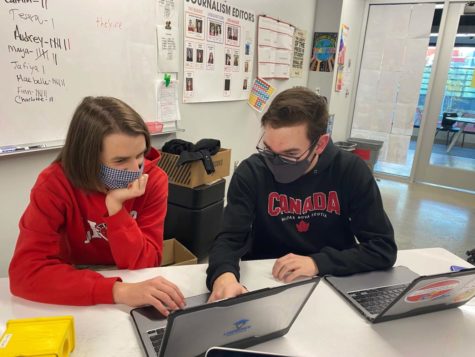 The judges reviewed Dunn's application and provided these compliments:
"

Feature ledes and writing put the reader there. You're taking us to specific moments.

"

"Great job working with professional press and standing up for your media. It's great to have that attention/relationship, but this is YOUR staff's work. Kudos in standing up for it."

"Editor-in-training program, copy editing process and even design editing processes established. Use [of] Trello. Staff members respect his balance between helping them and improving his own work. Organizes celebrations … Organization and flow charts are good."
Dunn's personal reflection reveals a life-long passion for journalism.
"My first journalism story was written in marker on a sheet of construction paper for the newspaper published out of my childhood bedroom. The headline was for a buzzer-beater finish in the basketball league that played exclusively in my head."
Dunn writes about overcoming the anxiety of becoming a busy high school journalist. (work on lol)
"I remember sitting in on my first pitch meeting, praying the editors liked my pitch and hoping they wouldn't make fun of my idea … Questions flooded my head that day: 'Was I good enough to make it on this staff?' 'Could I possibly lead a group this big?' 'Is this really what I want to do?' Now, as a senior, after editing hundreds of stories and leading countless pitch meetings and brainstorming sessions, I looked back on my younger self and can't help but laugh a little. Part of me wishes I could go back to tell my second-grade self that in 10 years he would be winning awards for stories written about basketball buzzer beaters that actually happened."
Dunn's adviser and adviser of The Budget is Barbara Tholen. She praised him for his role in reconstructing the journalism program at Lawrence High School:
"…it was Cuyler who made sure we got our first print edition of The Budget out in more than a year. Other young, inexperienced editors were struggling with the lack of in-person modeling they had missed out on the previous year. They struggled with organizing photos and wrapping up pages. But Cuyler did what great leaders do. He helped and guided them, and then he rolled up his sleeves to get the job done. And then, quite honestly, he helped advise his adviser. While I'd like to say I hadn't lost my high energy and drive as the pandemic lingered, I'd be lying. And whether he knows it or not, Cuyler's energy, enthusiasm and persistence made me excited to keep pushing forward."
Dunn's debate coach Jeff Plinsky said this in his recommendation letter:
"[Dunn] has left me with the impression that he views his work as a journalist as a duty larger than himself. While the members of your organization are far better equipped to determine the quality of his journalism, his motives are crystal clear to me. He digs into stories because he honestly believes his work will make the world a better place. And he faces the challenges those stories bring with the courage of the righteous actor."
The board and staff of KSPA congratulate Dunn on his award-winning application and portfolio. We wish Dunn the best luck in the upcoming competition for national student journalist of the year.
Savannah Athy-Sedbrook: 3A/4A Student Journalist of the Year
Athy-Sedbrook's portfolio is a collection of writing, photography, editing and design from four years in high school at Augusta. From coverage of a state wrestling tournament to a story about cancel culture, Athy-Sedbrook impressed the judges with her range in reporting.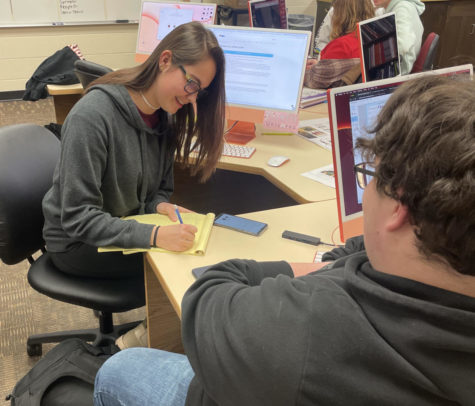 The judges reviewed Athy-Sedbrook's application and noted its quality:
"

An impressive amount of thought is getting put into this. A ton of stuff, probably the best I've seen from a JOY competitor."

"

Savannah cares a lot about what the staff is doing and she prepares them well for trouble they might encounter. She's focused on her readers and community and telling their stories.

"
"

A long-term commitment to her school program, coupled with her desire to publish in a variety of current ways and leadership skills in teaching staff are evidence she will be influenced and will influence through journalism for life."
In her essay, Athy-Sedbrook reflected on the qualities that make her a good journalist:
"Integrity, honesty and willingness to try new things are extremely important qualities to me, so over the last year I have been striving to lead by example and exemplify these core values for my staff. I cannot tell them the rules of journalism and what I expect from them if I cannot follow those same rules myself. I look back at the last four years, and I am so proud to say I made it this far. I know I have showcased those virtues throughout my time at Augusta High School. My generation deserves good, unquestionable journalism that they can rely on, and I plan to pursue a career within this industry. I plan to become part of the change I want to see in the world."
Having watched Athy-Sedbrook hone in her journalistic skills, adviser Julie Barker made a big decision.
"Normally, I don't choose an Editor-in-Chief until the semester before the student takes that position, but with Savannah it was different. During her sophomore year, I knew she would be the best fit for the job when the current EIC graduated in two years. I told Savannah she would be the editor. I told Savannah she would be the editor a year and a half before she took the role. At first, she was overwhelmed, but shortly thereafter, she embraced the challenge and looked for opportunities to learn and lead."
The previous editor-in-chief of the Augusta Oriole, Paige Harrington, commented on the environment Athy-Sedbrook creates in the classroom.
"Leaders are called as such because they need to lead, and Savannah has proved beyond any doubt that she can lead a confident team of journalists. She respects and values her team just as much as they respect and love her, and she shows them grace even if a deadline passes. While some people might look down on that, Savannah treats her team as a family."
The board and staff of KSPA congratulates Athy-Sedbrook as the 2022 3A/4A Kansas Student Journalist of the Year.
Emma Alderman: 1A/2A Student Journalist of the Year
In her portfolio, Alderman highlights the important work she and her staff have done for the Wabaunsee community. After receiving negative feedback over coverage of three LGBTQ students, school administration responded with an "action plan" that would require the paper to submit any publication to them two days before printing as well as restrict publication outside of the school year. Alderman, being the only returning staff member, worked tirelessly to create a positive environment to continue to publish.
The judges were blown away by Alderman's application:
"

Strong ethics coming from Emma here: fighting the new prior review policy and teaching her staff.

"
"

I grew up in a small Kansas town like yours. I admire your courage in telling the stories of LGBTQ people in your school and community — and in responding to the backlash with journalistic maturity.

"
Alderman wrote about her experience with her administration's new "action plan" and explained how she made her own plan to move forward.
"Following the institution of this new plan the staff wrote a new mission statement and in doing so made it very clear what our purpose is. We take our job of keeping the community informed very seriously and it is unfortunate that we are being watched like children. While I acknowledge that some positivity can be found from this plan, I still intend to ensure that it doesn't hinder our efforts of informing the community on important topics and continuing to have a successful weekly publication."
Adviser Brendan Praeger reminded the judges in his letter of recommendation that Alderman's commitment to helping the staff affects their larger community.
"We're a small school outside of the coverage area of larger local media, and our local paper doesn't have the staff to do much more than print notes from meetings. The work Emma does for the Charger is often the only time our school district faces a critical eye, and it's incredibly valuable to our community."
In another letter of recommendation, Wabaunsee Superintendent Brad Starnes notes the maturity Alderman shows in receiving negative feedback.
"Emma has not shied away from 'controversial' issues she believes her fellow students and the school needs to discuss. When these articles have been published, she's taken some 'heat,' however during these stressful times she's maintained her professional attitude, listened to others points of view and remained true to the newspaper's mission."
The board and staff of KSPA congratulates Alderman as the 2022 1A/2A Kansas Student Journalist of the Year.