The Kansas Scholastic Press Association congratulates Alena Gillespie on winning the statewide honor of the 2023 Kansas Student Journalist of the Year. Gillespie is the web editor-in-chief of The Miegian, Bishop Miege's student newspaper.
The overall winner is chosen among the winners of different enrollment classifications. Grace Logan of Shawnee Mission Northwest High School was named 5A/6A 2023 Student Journalist of the Year.
Gillespie is the first student from the 3A/4A classification to win the overall award since students from different sized schools were awarded according to classifications. In 1994, a student journalist from Phillipsburg High School earned the award. Phillipsburg is now a 3A school.
A panel of judges chose Gillespie's work as a premiere display of Kansas high school journalism. The judges are high school publications advisers, university instructors and former scholastic press professionals.
KSPA thanks all of the student journalists from around the state who applied for this award. It takes dozens of hours to construct such a portfolio and gather the necessary materials. Simply applying for this award is a huge accomplishment.
Alena Gillespie : 3A/4A Winner and Overall 2023 Student Journalist of the Year
The judges were impressed with Gillespie's wide array of coverage in her portfolio, and specifically her commitment to leadership and editing. Gillespie's innovative ways to engage students on her staff and help promote growth received praise from the judges. Aside from her leadership abilities, her social media and web prowess showed the judges her unique ability to engage The Miegian's audience.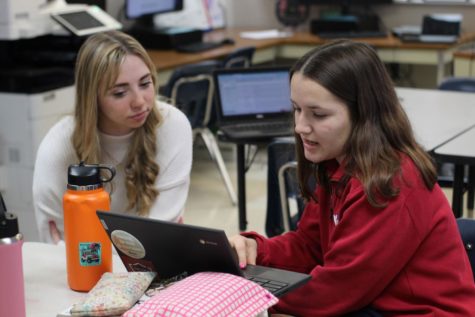 The judges reviewed Gillespie's application and provided these compliments:
"These are great ideas. I'm stealing them. I think the leadership/team building is the toughest part of being an editor and you've got some great ideas here

.

"

"A variety of social media techniques literally bring the stories to life."

"The crafting of editorial policies is one of the most important — and unheralded — parts of being an editor. Crafting a take-down policy and one for social media is a strong step of leadership."

"Certainly, we can all do more to promote diversity. I appreciate the focus here is not just on ethnicity but on a variety of inclusionary ideas."
Gillespie's personal narrative reveals a journey to discover, and fall in love with, journalism.
"I walked into Room 144 on the first day of school and was transformed into the journalism world. I slowly began to learn and understand the lingo — leads, bylines and cutlines, to name a few."
Through it all, Gillespie maintained a strong passion for finding and telling stories.
"However, now I know that it all goes back to my love for storytelling. Each person at our school has a story that deserves to be told."
Gillespie's adviser in the Bishop Miege publications classroom is Sarah McCambridge, who was impressed with Gillespie's dedication to journalism early in her high school career:
"Before she joined our Miegian newspaper staff, Alena Gillespie was already busy making an impact. She had taken journalism as a freshman and excelled in class, but then COVID-19 hit in the spring semester and we were all just trying to stay afloat. That's why I was so surprised when she emailed me over the summer about the multi-night summer journalism workshop she had signed up for. I had sent it out to students, expecting editors to think about it, and was impressed to see a new reporter was the only one to sign up."
McCambridge wrote about the new and unique leadership she brought to the Miegian staff:
"Her talent and thoughtfulness have truly impressed me, while her efficiency and leadership skills help our staff feel that they can turn to her for anything they need. She does this all with a smile and exudes a calmness that makes her staff comfortable, even when she's under intense pressure to meet a deadline. She makes sure to prioritize time for daily check-in questions or team-building games and goes out of her way to plan them. I know the strong bond students feel on the newspaper staff this year exists because of her focus."
The board and staff of KSPA congratulate Gillespie on her award-winning application and portfolio.
We wish Gillespie the best luck in the upcoming competition for national student journalist of the year. Her work will now move on to compete against nominees from each state. The Journalism Education Association will recognize five portfolios, one winner and four runner-ups, at the National High School Journalism Convention in San Francisco on April 20-22.
Alena Gillespie of Bishop Miege High School was surprised by an announcement at halftime of the home boys varsity basketball game against St. Thomas Aquinas on Tuesday, Feb. 22 with the news that she had earned Kansas Student Journalist of the Year.
Alena Gillespie poses with her parents after receiving the award for Kansas Student Journalist of the Year on Feb. 22.
Bishop Miege publications adviser Sarah McCambridge, Alena Gillespie and KSPA executive director Eric Thomas celebrate Gillespie being named the 2023 Kansas Student Journalist of the Year Feb. 22 at Bishop Miege High School.
Grace Logan: 5A/6A Student Journalist of the Year
Logan's portfolio showed a passion for storytelling and writing, born from lived personal experiences. Judges were impressed with her command of writing, editing and design, and complemented her pursuit to learn and grow throughout her time on staff.
Judges were thoroughly impressed with Logan's story titled "Invisible Barriers" which highlighted a lack of diversity in AP and Honors courses at Shawnee Mission Northwest.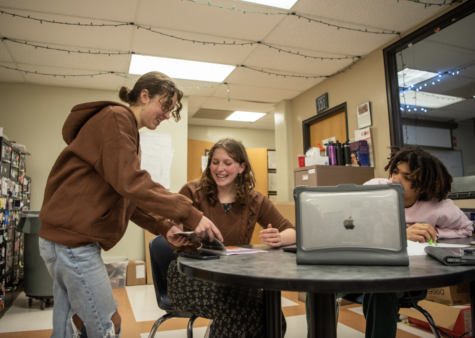 The judges reviewed Logan's application and noted its qualities:
"Writing examples show a seasoned eye for finding interesting and compelling stories

."

"Clearly effective packaging is a strong suit and her ad designs give an extra dimension to this area."
"A great variety of stories here that does demonstrate a commitment to diversity in her work

."
In her personal essay, Logan reflected on her desire to find stories in everyone, something born from the story she saw in her dad:
"My dad, like so many other people in the news, was never given a chance to tell his story. He became a cardboard criminal. He was nothing other than his crime. This is why I want to become a journalist. Not one of the news outlets reporting on my dad's crime ever tried to speak with him. It was just another news recap they could quickly throw together before moving on to the next sensational thing. My dad was and always will be a human being. I believe if they had spoken with him they could have written a story that created more awareness of addiction. According to the American Addiction Center in 2017, 8.5 million American adults suffered from both a mental health and substance use disorder. I believe those 8.5 million people might have felt a little less alone if they knew my dad's story."
Logan's adviser Susan Massy spoke highly of the leadership and talent that Logan displays everyday:
"Some recommendations are easier to write than others. This one will practically write itself…When Grace walks into the room 151, the journalism suite, others in the room may not even notice. She
will smile and speak quietly to a few people before getting ready to lead the class. But when she steps to the front of the room, the spotlight goes on and Grace becomes the center of attention. She speaks quietly but confidently. She always has a plan for the class period and for the week… and for the next issue of the paper…Although I have taught for 44 years, I have never had a journalism student like Grace Logan. Grace will become that determined journalist who quietly breaks the biggest story."
Logan has experience as an intern and freelancer at the local Shawnee Mission Post, which gave her professional experience that she took back to the classroom. The Shawnee Mission Post's deputy editor Leah Wankum spoke about the enthusiasm and work ethic that Logan possessed:
"We saw in Grace a refreshing earnestness for storytelling, a marked improvement in her photography skills over the course of her time with us, and a delightful curiosity about the communities we cover. Never once did she treat her internship as a box to check off. Instead, she accepted assignment after assignment with enthusiasm and professionalism…We at the Post will be following her career in hopes to someday work with her again."
The board and staff of KSPA congratulates Logan as the 2023 5A/6A Kansas Student Journalist of the Year.