Contest W2: Sports Writing
ASSIGNMENT
You will be writing a story about a sports event at Sunflower High School. The story should be approximately 400 words. With the aid of computers this year, we are able to enforce this. Please do not write longer than the word limit.
Please use the information provided below. The writer should determine which information is relevant and important to the story. Students may use dictionary, thesaurus and/or the Associated Press style manual. Only entries submitted online will be accepted. No exceptions will be made to this rule.
When you submit, you will simply be submitting plain text. Formatting such as italics, bold and underline will not transfer. Also, paragraph breaks will not transfer. To show the judge your intention to create a paragraph break, please use this double-backslash symbol: //  For instance, a passage with two paragraph breaks would look like this:
The school board reversed the policy with an 11-1 vote. // "I disagreed with the decision, but I lost this time," said board president Yvonnes Nulton. // The policy will go into effect at the start of next school year.
TIMELINE
DIRECTIONS
This contest is meant to be completed individually. Please refrain from seeking help from others while completing this contest.
Failure to follow these directions may result in disqualification from the contest without refund. Please read and follow carefully. 
Read over the prompt presented below. The writer should determine which information is relevant and important to the story.

While writing, you may use resources like the AP Stylebook, an online style guide or a dictionary/thesaurus. 

Use whatever technology works best for you while writing your draft. This could be pencil and paper, your cell phone, your computer, etc. Do whatever you're most comfortable with.

Do not include your name or your school's name anywhere on your final draft.

Type up the final version of your story and submit it. 

Please do not share your draft, notes or ideas about the prompt with others until after the competition deadline.
Here is a link to this contest's judging rubric.
DESCRIPTION
You are a member of Sunflower High School's journalism staff. Your editor has asked you to edit the following story and coverage.
SCHOOL INFO
Name:

Sunflower High School

Location:

Clinton, Kansas

Mascot:

Mighty Buffalo

Enrollment:

800 (grades 9-12)

School colors: yellow and brown
Yearbook:

The Sunflower

Newspaper:

Sunflower News
Contest Info
This is an on-site contest. 

Do not put your name on the entry. If you do, your entry will be disqualified.

Students must not request help

or advice from any person other

than the KSPA Executive Director Eric Thomas at

[email protected]

, and that advice must be requested before the start of the contest.

All work must be solely that of the contestant.
Where?
Clinton East High School outdoor track in Clinton, KS 
When?
Friday, April 2, 2021 
What?
Clinton East High School Girls Invitational Track and Field Meet 
Who?
Four teams from the Golden Plains Conference (GPC) 
Sunflower High School Track and Field Team

Sacred Heart High School Track and Field Team 

Clinton East High School Track and Field Team 

Haywood High School Track and Field Team 
Scoring
A track meet where four teams compete is called a Quad Meet. The scoring for each event is 5 points for 1st place, 3 points for second place, 1 point for third place and 0 points for anything below. Here are the results for each school: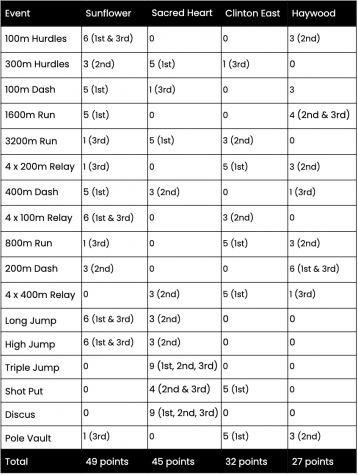 Quotes
From Laura Jennings, head coach of the Sunflower High School girls track team 
"I'm really proud of the girls' performance today. We've been training all season for a meet like this, and now they know what it takes to be a first place team. If they can keep this level of motivation up, I don't see how we wouldn't win the state title this year." 

"Competing has always been my passion. I am a naturally competitive person and I really thrived in the sports environments when I was younger. I pole vaulted and ran track at Sunflower University, you know? Coaching was the natural next step for me. Oh, I also teach geometry at Sunflower High, but my passions lie on the track." 

"The girls 4x100M relay team has rocked it this entire season. They had a rocky performance last year, but really put in the work in the off season and came out ready to win this year. I hope they realize how big of an achievement it is to break a state record. I am incredibly proud" 

"I can't credit our victory to just one athlete, but Sara Saldago was a huge contributing effort to win at this meet. She took first in all of her events, scoring 20 points for the team, and helped keep spirits high among the other girls. She's a great individual athlete and team player. Teammates like that are hard to come by." 

"I'm just happy we're out here competing this year. Having the season cut short last year due to COVID broke my heart. I tried to stay positive for the girls and told them it just gave us more of an off season to train, but secretly I was really really sad." 
From senior Sunflower High Sara Saldago
"I put a lot of pressure on myself to compete well. I'm always the first to show up to practice and the last to leave. While I'm there I give it my all and encourage my teammates to do the same. I know winning isn't everything, but it really feels good to see your hard work pay off." 

"I feel my best when I'm out on the track. It feels like all my worries and stress from the day go away when I start training. It's my happy place." 

"Breaking the record for the 4x100M relay was such an incredible accomplishment. I'm so proud of my teammates. We really worked hard in the off season to train to do exactly this. Girls around the state will be competing to beat our record!" 

"The 4x100M relay isn't the first record I've broken, actually. In middle school, I broke my school's high jump and long jump record. Freshman year at Sunflower High I broke the girls push up record. Then, last year, I broke the girls and boys long jump records."

"I compete in four events, but I'd say my favorite is high jump. I feel like I was destined to do it since I'm so tall. Six foot on the dot to be exact. I love the rush of barely clearing the bar and then the relief hitting the mat and knowing I'm going onto the next height." 

"If I could do a fifth event I think I'd do triple jump. It's kind of similar to long jump, but more challenging. Coach Jennings won't let me compete in five events, though. She says it'll tire my legs out too much and I won't perform well in my other events." 

"I really like to encourage my teammates and make sure everyone is staying positive during the meets. A bad attitude can throw off your entire event." 
From Sunflower High senior Clancey Kelley 
"Hearing our time and learning that we had broken the state record is a feeling I'll never forget. At first it was shock, then excitement, then exhaustion. It's no easy task breaking records around here. I'm so proud of what we achieved." 

"The other event I do is the 1600M run. I like it, but I'm more of a long-distance-running-for-leisure kind of person. I enjoy competing in sprints the most where it's fast then it's over." 

"I don't think I'll pursue track after high school. It's been a great place to make memories, have some fun and set a record, but I'd like to do other things with my time. I've always wanted to get into hiking, so maybe I'll give that a try."

"Sara is probably the most positive person I've ever met. Being her teammate for four years now, it's helped me get through some of my tougher days. I don't know how she does it, but I'm thankful for her."

"I think a lot of girls on the team just expect Sara to win her events because she makes such a big deal about training so hard for them, but winning all four of her events is a huge accomplishment.  I'm so happy for her. If anyone deserves it, it's Sara." 
From Angelina Saldago, mother of Sara Saldago 
"Sara has always loved being active, even when she was little. We put her in soccer when she was five because she just had so much energy! She didn't care much for the game, but loved being able to run all around the field. As long as she wasn't running around the house, I didn't care."

"Sara discovered track and field when she was in middle school. She was the tallest girl in school so all the coaches at Sunflower Middle were trying to get her to join whatever team was in season. She tried them all and loved them,  but track piqued her interest the most. I think she liked having so many options of ways to compete." 

"Sara tries her hardest to make sure everyone is having fun and feeling good about the meet, no matter how they're performing. I always told her that one bad attitude can change an entire group's momentum, and I think she really took that to heart." 
From Jeffrey Neway, head coach of the Sacred Heart High School girls track team
"Our Sacred Heart girls competed well today. We still have some work to do, but this meet was a good look at their competition for the season." 

"The midafternoon rain shower really threw us. We were competing well in the throwing events, and just needed first place in shot put to sweep, but then the rain came and delayed the event. Our throwers lost their momentum and we lost to Sunflower in the last round." 

"That Sara Saldago has a lot of talent. I don't know many athletes who can compete in four events at one meet, let alone get first place in all of them. She's one to watch for if she pursues college track and field." 
From Kendall Dugan, senior at Sacred Heart High School
"I've been competing against Sara Saldago in high jump and long jump for the past four years. I'd say we're pretty well matched. She wins some, I win some. She's won more this season, but it's only because I had COVID and had to sit out of practice for almost three weeks."

"I don't know how Sara also competes in two other running events in addition to high jump and long jump. My legs are shot after those two events." 

"Coach Neway has been pretty hard on us about training this season. I think he's considering retiring soon and wants another state championship before he goes. After seeing Sara and the rest of Sunflower High compete today, I don't think this will be our year." 
Facts from your research 
Clinton East High School hosted an invitational track meet for three other schools in the area, Sunflower High School, Sacred Heart High School and Haywood High School. The event was on Friday, April 2 and lasted from 9AM-7PM. There were 19 track and field events. 

It was mostly sunny the day of the meet, but there was a brief rainshower mid afternoon that delayed the girls shot put throwing event.  

Due to COVID regulations from the GPC, only two family members from each athlete were allowed to spectate at the event. 

Sunflower High School girls varsity team took first place at the invitational meet, followed by Sacred Heart in second, Clinton East High in third and Haywood High in fourth. 

Laura Jennings has been the head coach for the Sunflower High varsity girls track team for ten years. There are about 45 girls on the team. She began coaching after concluding her track career at Sunflower University where she was an accomplished pole vaulter and sprinter. 

The Sunflower High School girls 4×100 relay team broke the current state record with a time of 45.96 seconds. The previous record was 46.86 seconds. The team was composed of senior Sara Saldago, senior Clancey Kelley, junior Madison White and sophomore Abigail Beilman.

This is the relay team's second year competing together. Each member of the team also competed in other events at the meet. 

Senior Sara Saldago competed in the 4x100M relay, 400M dash, long jump, and high jump. She received 1st place in all events. 

Senior Clancey Kelley competed in the 4x100M relay where they took 1st and the 1600M run where she took 3rd.

Junior Madison White competed in 4x100M relay where they took 1st and the 300M hurdles where she took 2nd. 

Sophomore Abigail Beilman competed in the 4x100M relay where they took first, long jump where she got 3rd and triple jump where she also got 3rd.  

Many members on the Sunflower High girls track team credit their winning the invitational meet to Sara getting first place in all four of her events.