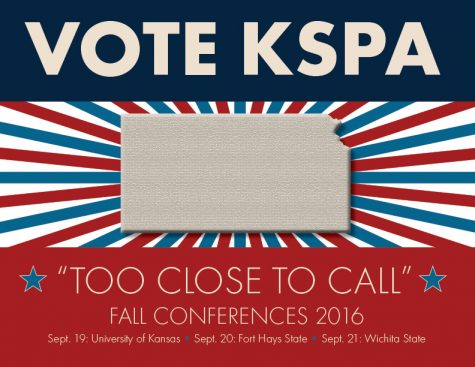 We want to earn your vote as the best day of journalism ever!
Welcome to the Kansas Scholastic Press Association's fall conference 2016.
With the upcoming political season — from electing new members of the Topeka statehouse election to choosing a new president — political coverage will be everywhere: on your website, on your broadcast, in your yearbook and on your front page. So, we want you to be ready. For that reason we will be providing expertise through sessions at our fall conferences. You will hear from the best political reporters around the state and nation. You will perhaps get to meet the candidates themselves. You will have the chance to interview political scientists from host universities. And so much more.
And being ready for the school year also means having all of the other skills that create amazing publications. Our sessions will teach your staff the best of photography, design, writing and so much more. Learn from great journalism advisers, college faculty, cutting-edge university student journalists and even representatives from Google. There is something here for everyone, whether you are in your first semester of journalism or decades into teaching.
Our three 1-day conferences offer your staff . . .
A welcome by executive director Eric Thomas along with sweepstakes awards from 2016 State contests
A campaign-style button for each student or adviser
Sign up for critiques for your publications: web, yearbook and newspaper
On-site training sponsored by a partnership between the Society of Professional Journalists and Google.
A presentation sponsored by the Kansas Humanities Council and the Pulitzer Prizes helping students and teachers cover topics of controversy in their school publications
Breakout sessions from professors, professionals and expert advisers on dozens of topics: photography, yearbook, newspaper, online, broadcast, design and more
Chances to tour state-of-the-art college media facilities
A day of bonding with your fellow staff members and adviser
Special Events
–
TRAINING FROM THE SOCIETY OF PROFESSIONAL JOURNALISTS AND GOOGLE
–

A certified trainer from the SPJ-Google partnership will attend all three fall conferences to train students on using online tools for research and publication. From SPJ's page about the program:
"SPJ and the Google News Lab teamed up in 2015 to provide training and outreach to journalists around the U.S. looking to apply Google tools in their news gathering, reporting and storytelling. Select SPJ members have been trained by the Google News Lab to bring this training to your doorstep. The training can take place in your newsroom or for organizations. In the first six months of the program, more than 700 journalists have been trained in over 14 states."
The session will be lead by Sandra Gonzalez (@SandraGonzalez2) is a general assignment reporter for KSNV-TV in Las Vegas. Gonzalez has been reporting news for more than two decades in both TV and radio. She is active in the National Association of Hispanic Journalists and in SPJ.
The training will last 90 minutes (two sessions). Each participant should attend the workshop with a WiFi-enabled laptop.
Each KSPA member school who registers for the conference before Sept. 9 can register up to three students, free of charge! (Advisers can provide "back-up" names as well if more space is available.)
–
PRESENTATION SPONSORED BY KANSAS HUMANITIES COUNCIL & PULITZER PRIZES
–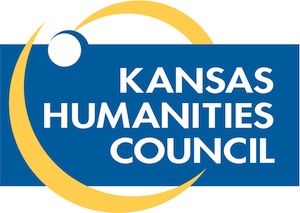 KSPA is partnering with the Kansas Humanities Council to celebrate the 100th anniversary of the Pulitzer Prizes. Kansas has a special connection to the Pulitzer Prizes with William Allen White's editorial winning the 1922 Pulitzer Prize.
The Pulitzer Project in Kansas: William Allen White and Freedom of Speech is a joint venture of the Kansas Humanities Council, the Pulitzer Prizes Board and the Federation of State Humanities Councils in celebration of the 100th anniversary of the Pulitzer Prizes.
KSPA is joining the celebration by awarding one pairing of student and teacher to travel to each of the fall conference locations to deliver a session about how to cover controversial content in student media. We invite all Kansas high school media advisers and their students to tell their stories of covering controversy through a session at the fall conferences. The session will tell the story of the coverage — from beginning to end. Even more, the second chapter of the session will organize students and advisers around controversy within their schools and communities.
If you are interested in applying to be our statewide representative for this unique and prestigious experience, please select the format below that you would prefer for the application document:
Keynote Speakers
–
Sept. 19 at University of Kansas: DAVID VON DREHLE, Time Magazine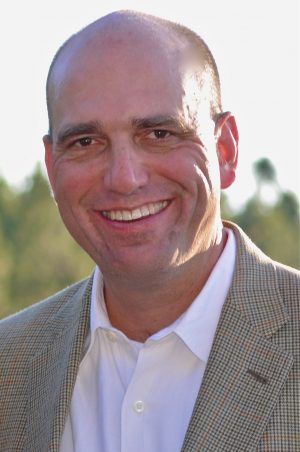 David Von Drehle is an Editor-at-large for Time magazine, where he has written more than 50 cover stories over the past nine years on topics ranging from presidential politics to the Supreme Court to international terrorism. His essay on the 2008 Time Person of the Year, Barack Obama, anchored the bestselling issue in the history of Time's most famous franchise. His work has been featured on a wide variety of television and radio programs, including "Today," "The NBC Nightly News," "The NewsHour," and "Morning Edition." Now he is helping to cover his third presidential election for TIME and his eighth presidential election as a journalist.
Prior to joining Time in 2007, Von Drehle was a senior writer and Assistant Managing Editor at The Washington Post, where he covered national politics and led the paper's renowned features and culture section, Style. His work for The Post has been collected in a number of anthologies, including "America's Best Newspaper Writing."
Von Drehle is the author of several books, including the award-winning bestseller "Rise to Greatness: Abraham Lincoln and America's Most Perilous Year." His acclaimed account of the famous Triangle shirtwaist factory fire, "Triangle: The Fire That Changed America" has been called "social history at its best" by the New York Times; it remains a staple of high school and college history classes across the country.
A graduate of the University of Denver and Oxford University (where he was a Marshall Scholar), Von Drehle lives in Kansas City with his wife, journalist Karen Ball, and their four children.
Sept. 20 at Fort Hays State University: Barb Tholen and Zia Kelly of Lawrence High School
Adviser Barb Tholen and her former student Zia Kelly will talk about the reporting, research and writing of an amazing — and controversial — story about how Kansas schools are not notified when they have a student sex offender enrolled. Tholen and Kelly provided the winning application as part of the Pulitzer Prize-Kansas Humanities Council project. They will tell their story about navigating the complexities of the story and also help staffs discuss and tackle topics of controversy on their campuses.
Sept. 21 at Wichita State University: Richard Crowson
Richard Crowson was born and raised in the shadow of Graceland in Memphis, Tennessee. He cartooned for his high school and college newspapers in Memphis, winning several national and regional awards. In 1978 he became the first editorial cartoonist for The Jackson Sun newspaper in Jackson, Tenn. He came to Wichita in 1986 and became the Wichita Eagle's first full-time editorial cartoonist. His cartoons have been reprinted in Time, Newsweek, The New York Times, The Washington Post and USA Today as well as other publications and many books.
He currently cartoons for The Eagle on Sundays as well as doing web cartoons and on-air commentaries for KMUW radio, Wichita's NPR affiliate. He won first place for editorial commentary in 2015 from the Kansas Association of Broadcasters. He is a roster artist for Arts Partners, producing classroom programs in cartooning and in music for Wichita schools.
He and his wife, Karen, are bluegrass musicians who have performed monthly at Watermark Books for the last 15 years and released a CD of Christmas songs in 2010. He and Karen have a 22-year old daughter, Haley who is employed by KMUW.  They live in Wichita under the authority of their Airedale Terrier, Lucy.
Career-wise, Richard is most proud of his job from 1967 through 1970, when he worked as Elvis Presley's paperboy in Memphis.
Dates for 2016 fall conferences
Monday, Sept. 19, University of Kansas, Lawrence
Tuesday, Sept. 20, Fort Hays State University, Hays
Wednesday, Sept. 21, Wichita State University
Basic schedule for all locations
8-8:45 a.m. Registration and pick up of school materials
8:45-9 a.m. Welcome from host school, Opening comments
9-9:40 a.m. Keynote Speaker
9:40-9:50 a.m. Sweepstakes Awards from 2016 State Contest
Break-out Sessions
9:55-10:40 a.m.
10:50-11:35 a.m.
11:45-12:30 p.m.
12:40-1:25 p.m. (not offered at the Hays Conference to allow travel time home)
Registration costs & deadlines
Register by Sept. 9:

 Deadline for Fall Conference registration

$15 for each member adviser or student
$18 for each non-member adviser or student
$10 for each publication critique
Register by Sept. 15:

 Deadline for Late Fall Conference registration

$18 for each member adviser or student
$21 for each non-member adviser or student
Critique registration not available after Sept. 9
Can you present or critique?
KSPA is recruiting volunteers for our three fall conferences in September. We would love to have your suggestions of teachers, professors, media professionals and journalists. Perhaps you even know a student or group of students — from high school or college — who have an interesting message for a presentation. We are excited to hear your ideas. Or, you can simply fill out the form at the link below.
Please click on this form to volunteer to present a 45-minute session at the fall conference. Or, perhaps you could provide a 20-minute critique of a student publication from one of our member schools.
Help from volunteers like you make the KSPA fall conference possible. Thanks so much!