Contest W6: Cutline Writing
ASSIGNMENT
You will be writing five captions for a single spread in the yearbook. For each caption, clearly label the photo number at the top of the caption.
The event taking place in the photos is national signing day for high school football players.
Please use the information provided below. The writer should determine which information is relevant and important to the captions. Students may use dictionary, thesaurus and/or the Associated Press style manual. Only entries submitted online will be accepted. No exceptions will be made to this rule.
When you submit, you will simply be submitting plain text. Formatting such as italics, bold and underline will not transfer. Also, paragraph breaks will not transfer. To show the judge your intention to create a paragraph break, please use this double-backslash symbol: //  For instance, a passage with two paragraph breaks would look like this:
The school board reversed the policy with an 11-1 vote. // "I disagreed with the decision, but I lost this time," said board president Yvonnes Nulton. // The policy will go into effect at the start of next school year.
TIMELINE
DIRECTIONS
This contest is meant to be completed individually. Please refrain from seeking help from others while completing this contest.
Failure to follow these directions may result in disqualification from the contest without refund. Please read and follow carefully. 
Read over the prompt presented below. The writer should determine which information is relevant and important to the story.

While writing, you may use resources like the AP Stylebook, an online style guide or a dictionary/thesaurus. 

Use whatever technology works best for you while writing your draft. This could be pencil and paper, your cell phone, your computer, etc. Do whatever you're most comfortable with.

Do not include your name or your school's name anywhere on your final draft.

Type up the final version of your story and submit it.

Please do not share your draft, notes or ideas about the prompt with others until after the competition deadline.
Here is a link to this contest's judging rubric.
DESCRIPTION
You are a member of Sunflower High School's journalism staff. Your editor has asked you to write five cutlines for the photos provided with the information provided.
SCHOOL INFO
Name:

Sunflower High School

Location:

Clinton, Kansas

Mascot:

Mighty Buffalo

Enrollment:

800 (grades 9-12)

School colors: yellow and brown
Yearbook:

The Sunflower

Newspaper:

Sunflower News
Contest Info
This is an on-site contest. 

Do not put your name on the entry. If you do, your entry will be disqualified.

Students must not request help

or advice from any person other

than the KSPA Executive Director Eric Thomas at

[email protected]

, and that advice must be requested before the start of the contest.

All work must be solely that of the contestant.
The photos in this contest should be considered as a package of images that will be used in a Sunflower High School publication that is covering this year's school productions. Please note that there is no social distancing or use of face masks because in the mythical world of Sunflower High School, there are no pandemics!
Photo #1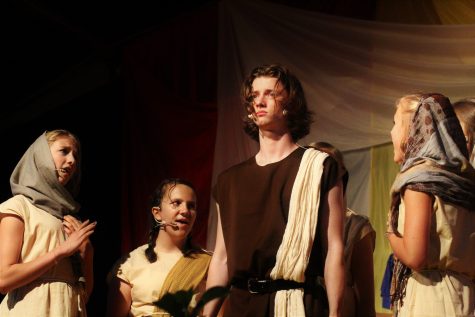 This photo was taken on November 13th, 2020 in the Sunflower High Auditorium during the Fall production of "

The Odyssey: Are We There Yet?

", an original play by Senior English teacher Dr. Mahershala Frances.  

Dr. Mahershala Frances not only teaches English, but is a Greek Mythology expert. He adapted the famous story of the Odyssey into a short comedic play. 

Dr. Frances started writing the play in April 2020, crediting the COVID 19 quarantine for finally giving him time to complete his project. It took him 4 months to complete the script. 

Dr. Frances helped cast and direct the show. 

The play focuses on Odysseus' journey home from battle when he encounters a series of obstacles, specifically Polyphemus the cyclops. Odysseus is able to escape Polyphemus using his quick wit, battle skills, and sarcastic humor.   

Senior Jacob Kramer, center, was cast as Odysseus 

Throughout the play, the characters are followed around by a musical group called the Muses who narrate the story. They are pictured surrounding Odysseus: left is sophomore Janet Day, left-center is freshman Kayla Hurtz, right is junior Jedah Fell. 

From sophomore Janet Day, pictured far left, in an interview on November 13th, "The play was super-duper fun! All of the Muses were so nice and did such a good job! Oh, and everyone else was great too." 

From freshman Kayla Hurtz, pictured left-center, in an interview on November 13th, "I had no clue this was based on another book, or poem or whatever it is. I've never read the Odyssey. Is it good? I'll check it out, I guess." 

From Dr. Mahershala Frances in an interview on November 13th, "I've always wanted to adapt the Odyssey into a short satirical play. You can dive deep into the tragedy and misfortune of the saga, but on the surface is a story about a guy who just wants to go home. His quick wit and intelligence make for a great sarcastic main character surrounded by his incompetent crew who must face obstacle after obstacle." 

From Dr. Mahershala Frances in an interview on November 13th, "I knew for the humor in play to make sense, I had to have the right person play Odysseus. Jacob is one of my students this year, and I've never met someone quicker on their feet. He has a certain humor about him that is intelligent but still relatable. I knew he'd be the perfect Odysseus."  

From senior Jacob Kramer in an interview on November 13th, "I loved playing Odysseus. When Dr. Frances asked me about being in an original show written by him, I jumped at the chance. Dr. Frances isn't just a great teacher, he's hilarious too. I knew if he had a hand in writing something, it'd be a hit."
---
Photo #2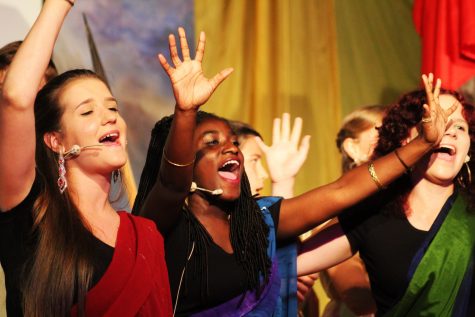 This photo was taken on November 13th, 2020 in the Sunflower High Auditorium during the Fall production of "The Odyssey: Are We There Yet?", an original play by Senior English teacher and Greek Mythology expert Dr. Mahershala Frances.  

Dr. Frances adapted the famous story of the Odyssey into a short comedic play during the COVID 19 quarantine in April 2020. 

Dr. Frances helped cast and direct the show. 

The play focuses on Odysseus's journey home from war when he encounters obstacle after obstacle. Throughout the play, the characters are followed around by a musical group called the Muses who narrate the story, pictured. 

From right to left, junior Gabby Jones and sophomore Shelby Carter were both casted as members of the Muses group. 

Shelby and Gabby are both members of the Sunflower High choir and served as lead vocalists for the Muses. 

Shelby considers music a hobby and likes to write her own songs occasionally. 

Gabby has been performing since she was five years old. She has competed in national acting and singing competitions and hopes to pursue it as a career some day. 

From Shelby Carter in an interview on November 13th, 2020, "Getting to be a part of this production was a dream. Dr. Frances made rehearsals a lot of fun, which makes everyone want to work a little harder." 

From Juliette Albright, a set crew member, in an interview on November 13th, 2020, "I'm surprised the audience could hear half the show. The mics kept going out every 5 minutes. I told the crew to charge the mic packs last night and someone forgot to." 

From Gabby Jones in an interview on November 13th, 2020, "Being part of the Muses was a blast. They're the only musical part of the play which spices up the story and keeps it feeling energetic. Overall, this is the most fun I've ever had working on a production."
---
Photo #3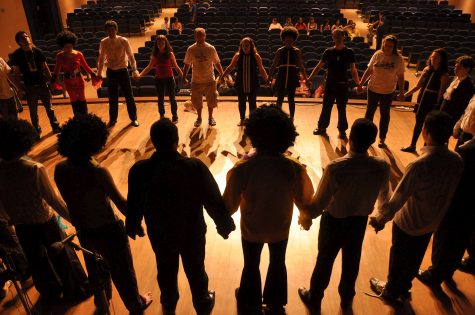 This photo was taken on April 12th, 2021 in the Sunflower High Auditorium before the Spring production of

Newsies

. 

The musical tells a story about newsboys in the 1920s who go on strike in opposition of newspaper publishers who make it harder for them to make money. 

The show was directed by theater teacher Missy Keller and choir instructor Grace Sweatt. 

Before becoming the theater teacher, Missy Keller starred in Wicked, Annie, Rent, and Oklahoma while working at the local music theater 

There were 40 students a part of the cast and crew. 

Rehearsals for the musical started in January were every day after school. They lasted about two hours each. 

The cast became very close over their months of working together. On Friday nights after rehearsals, many members of the cast go get dinner together at Pizza Joe's. 

From Frankie Jemes, a crew member, in an interview on April 12th, 2021, "This show totally rocked! Everyone became, like, so close through the rehearsals and stuff. We would all go get pizza on Fridays. I live for the Hawaiian pizza at Pizza Joe's, it totally slaps."   

From Missy Keller in an interview on April 12th, 2021, "This cast and crew has blown me away. Their dedication to this production has been evident since the first rehearsal. They've consistently given it their all and gave a great performance because of it. I'm so proud of them." 

From Grace Sweatt in an interview on April 12th, 2021, "I have nothing but praise for this cast and crew!

Newsies

is a complex show to produce and they absolutely killed it." 
---
Photo #4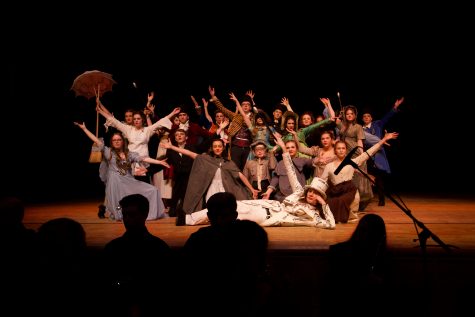 This photo was taken on April 12th, 2021 in the Sunflower High Auditorium during the Spring production of

Newsies

.

The musical tells a story about newsboys in the 1920s who go on strike in opposition of newspaper publishers who make it harder for them to make money. 

While this is typically a male dominated cast, many roles were given to young women to accommodate those who auditioned and diversify the cast. 

The musical showed for three nights and two matinees on April 10th, April 11th and April 12th. All of the shows sold out. 

Sunflower High teachers Missy Keller and Grace Sweatt volunteered to co-direct the musical after the Theater Director Julie Marcus left for maternity leave in early February 

Freshman Kole Humphry, pictured center in the white suit, played the newspaper publisher and villain Joseph Pulitzer.  

This is Kole Humphry's first time acting in a musical. He auditioned because his friends said he'd be good at it. Kole is known for his outspoken nature and confidence.   

From Kole Humphry in an interview on April 12th, 2021, "This is my first time acting… like ever. I was nervous but after the first week of rehearsals I was totally comfortable. Playing the show's villain, Joseph Pulitzer, was such a fun experience. 

From Missy Keller in an interview on April 12th, 2021, "Kole was great, but I'm shocked he had time to do the show with all the detentions he serves. Good kid, but he has a knack for getting in trouble."

From Grace Sweatt in an interview on April 12th, 2021, "I was shocked to find out this was Kole's first time acting. He is such a natural. I hope he'll come back for the next production in the fall when we do "Hamilton". I think he'd make a great Aaron Burr."
---
Photo #5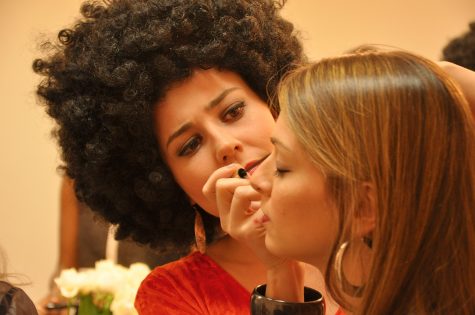 This photo was taken on April 12th, 2021 backstage at the Sunflower High Auditorium during the Spring production of

Newsies

.

The musical tells a story about newsboys in the 1920s who go on strike in opposition of newspaper publishers who make it harder for them to make money. 

Senior Charlotte Springer, left, was the head of wardrobe for the production. She managed a team of seven students who planned out the costumes and did hair and makeup for all the actors.

Sophomore Lainey Hall, right, played Katherine Plumber, an aspiring young journalist in the show. 

Charlotte has a passion for makeup and fashion design. She hopes to attend design school and start her own clothing line. 

Lainey is a very talented vocalist and enjoys the theater, but her real passions are on the basketball court. She is a starting varsity player for the Sunflower High girls basketball team. 

From Charlotte Springer in an interview on April 12th, 2021, "Designing the wardrobe, hair and makeup for this production was such a great experience. The wardrobe says so much about the character. Every detail expresses something about the character. I'd love to have a job where I can do this all the time."

From Lainey Hall in an interview on April 12th, 2021, "I loved being in the show, but it was exhausting trying to balance rehearsals, basketball practices and homework. I'm really thankful for the experience, though!" 

From Lainey Hall in an interview on April 12th, 2021, "I probably won't do another show. It was great and all, but it took too much time away from basketball."