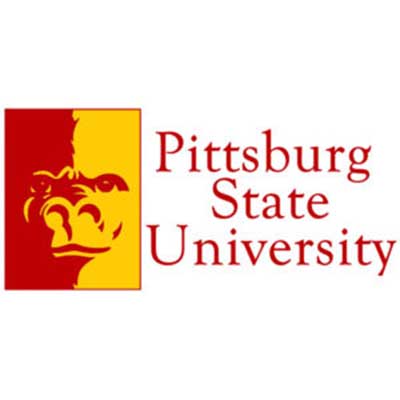 Welcome to the PSU Regional Conference 2022!
The 2022 Regional Conference at Pittsburg State University will gather students from around Kansas for the first time in years for KSPA. We are excited to offer a variety of speakers and sessions as part of five different regional events happening during the week of Feb. 14. Welcome to Pittsburg State University and enjoy your day in Pittsburg!
THE SCHEDULE
Check out all of the sessions that we are bringing to you today!
NOTE: During breakout sessions, 30-minute guided tours of PSU's Student Media facilities will be available. A shuttle will be available to take students to the Kansas Technology Center for tours of the Graphics and Imaging Technology Department. Guided walking tours of the student broadcasting lab & studio, as well as the Collegio/Kanza newsroom will also be available. Shuttle space is limited, so students will need to sign-up for a tour when they arrive.
REGISTRATION
click on arrow for REGISTRATION INFO
---
OPENING REMARKS
click on arrow for OPENING REMARKS
9:00-9:30 a.m.
Crimson & Gold Ballroom C
Our local host, Josh Letner of Pittsburg State University, will welcome students and teachers to Pittsburg while providing an overview of the day and preview upcoming events on the KSPA calendar.
---
SESSION 1
click on arrow for SESSION 1 SCHEDULE
9:30-10:15 a.m.
"Employed to Empowered: How Media Skills Pave the Way"
Crimson & Gold Ballroom C
Deciding to pursue a media career doesn't mean you're destined for a career in the traditional media. Your skill set provides a wide array of entrepreneurial opportunities, and makes you attractive to corporations, non-profits, political campaigns, and community organizations. The key is to continue learning and recognize opportunities as they arise.
B.J. Harris: Executive Director of the Kansas Shrine Bowl
A 2005 graduate of Pittsburg State University, B.J. Harris began his career working for CAPS 13, Pitt State's student Television station as well as KSEK radio. After graduation, Harris worked as the Sports Director of KADL 102.9 in Imperial, Nebraska, before moving back to Pittsburg. After returning to Southeast Kansas, Harris was Operations Manager at KKOW before leaving full-time radio in 2011. B.J. served as the voice of the Girard Trojans for 15 years and spent 10 years as the sideline reporter and color analyst for Pittsburg State University football. Along with his wife Leslie, B.J. owns Harris Media Services, LLC, a media company that specializes in live stream broadcasts of high school sports. B.J also promotes high school athletes in his full-time role as the Executive Director of the Kansas Shrine Bowl.
---
SESSION 2
click on arrow for SESSION 2 SCHEDULE
10:20–11 a.m.
"The Non-Writing Part of Journalism"
Axe Library: Basement Presentation Area
Being a great writer doesn't make you a great journalist. This session will share proven strategies beyond writing that will help you be successful in journalism — or a related field — now and in the future.
Andra Stefanoni: PSU Director of Media Relations
Andra Stefanoni started her 34-year career in journalism and communication in high school as a member of the student newspaper and a competitor in KSPA contests at Pittsburg State University. Now the director of media relations at PSU, she has been a reporter and editor at daily and weekly newspapers, a writer for regional and national magazines, a social media and web content manager, a communications specialist, and a journalism teacher. She has used what she learned in high school journalism every single day.
"Event Photography Workshop"
Crimson & Gold Ballroom C – Then outdoors (weather permitting)
Get real world shooting experience in a fast-paced event photography environment. Participants will learn about using the proper gear and processes to get the shots that set their photography apart from the crowd. Participants are welcome to bring their own cameras, cell phones or they can simply observe. Dress accordingly for the weather.
Rion Huffman: PSU Department of Graphics & Imaging Technology
Rion Huffman is an international award-winning photographer and Associate Professor in the Graphics and Imaging Technologies department at Pittsburg State University. His passion is portrait photography, but he explores as many genres of photography as possible.
---
SESSION 3
click on arrow for SESSION 3 SCHEDULE
11:10–11:50 p.m.
"Working With the Tools You've Got"
Axe Library: Basement Presentation Area
Each school's journalism program is built differently and has access to different resources. This session will help you tailor your content to the equipment and staff you have—be that 20 students and room of video cameras, two students and a cell phone, or anything between.
Dr. Ken J. Ward: PSU Department of Communication
Dr. Ken J. Ward joined the PSU Department of Communication in Fall of 2021. His background is in journalism, and his research focuses on the journalism history of the Great Plains and Rocky Mountains. Before earning his Ph.D. from Ohio University's E.W. Scripps School of Journalism in 2018, Dr. Ward was a reporter for the McPherson Sentinel and a sports radio producer for 1410 KGSO in Wichita. His research has appeared in top academic journals including Journalism History, the Journal of Media Law and Ethics, and the Journal of Media Ethics.
"The Inverted Pyramid Across Formats & Media"
What's the story Behind the Inverted Pyramid? Why do journalists still use it? And how does it apply to journalistic writing across multiple formats and media? We'll discuss and apply the Inverted Pyramid both as a style, and an overarching philosophy for your writing.
Josh Letner: Director of PSU Student Publications
Josh Letner taught Advertising and Public relations courses in PSU's Department of Communication before taking the reins of Student Publications at PSU. Josh got his start as a general assignment reporter with the Joplin Globe. His first day on the job was May 23, 2011. The day before, an EF-5 tornado struck Joplin killing 161 people and destroying thousands of homes and businesses. Josh earned Missouri Press Association and Southern Newspaper Publishing Association awards for his coverage of the storm's aftermath. He has also worked as a DJ, and sports producer for KSEK Radio, as a news writer for KOAM TV, and has extensive experience doing play-by-play of high school sports for a variety of outlets. He was also Editor-In-Chief and Sports Editor for the PSU Collegio during his time as a student.
---
SESSION 4
click on arrow for SESSION 4 SCHEDULE
noon–12:40 p.m.
Lunch at campus dining options.
---
ON-SITE CRITIQUE INFORMATION
Session 4:
12-12:20 pm: Fort Scott High School yearbook with Crista Cunningham
12:20-12:40 p.m. Pittsburg High School yearbook with Crista Cunningham
12-12:20 pm: Pittsburg High School Newspaper with Antjea Wolff
12:20-12:40 p.m. Pittsburg High School website with Antjea Wolff
LOCATION
The WiFi Log-In & Password for this event are:
SCHOOLS ATTENDING
Below are the schools that are registered to participate in the conference at this location:
Chanute High School
Field Kindley High School
Fort Scott High School
Neodesha High School
Pittsburg High School
What should you bring?
Masks: They are required on the PSU campus indoors, unless actively eating or drinking.
If you signed up for an on-site critique, be sure to bring copies of your publication for the critique provider to review
Copies of your most recent publications for swapping with other teachers
A laptop: many of our sessions (especially sessions hosted by Google at KU and WSU) will encourage you to learn on your laptop during the session
Money for food: The food market in the Union will be open for students and advisers. Advisers will receive a meal card from KSPA to use for lunch during the day. We are sorry that we cannot provide catering at this location.
What safety measures are being taken?
Please help KSPA host a safe conference that minimizes the spread of COVID-19 among attendees and PSU staff members.
Pittsburg High School and the Overman Student Center encourage students and advisers to wear masks, however, they are not required by the university.
If a participating high school requires mask wearing from students while at a school activity, teachers will enforce that expectation of their students.
We strongly encourage all students and advisers to complete the full course of vaccinations and boosters before attending the conference. Vaccinations have been proven to reduce the spread of the virus while also reducing the chance of serious symptoms and hospitalization.