The April monthly contest had 113 entries submitted. The school earning the most awards is Shawnee Mission East High School with a total of nine awards. Mill Valley High School came in second with six awards.
Video
News Page Design
1st Place:

Peyton Moore from Shawnee Mission East High School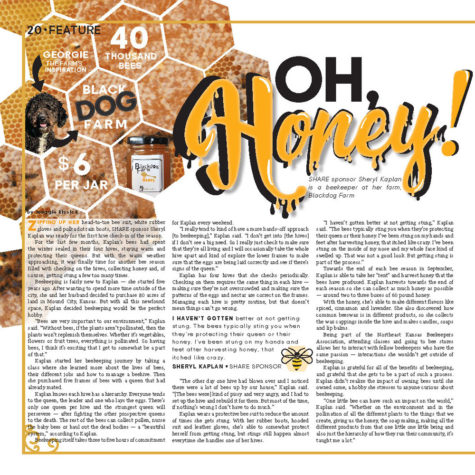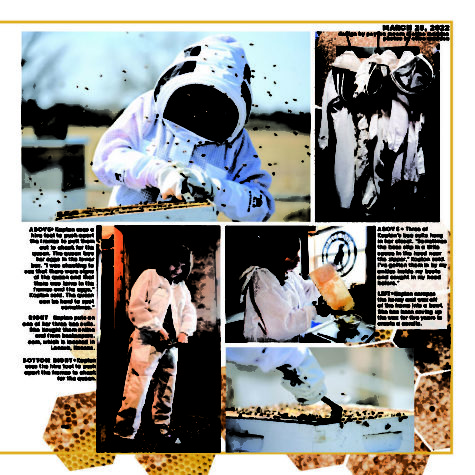 2nd Place:Delaney Johnson, Mary-Kathryn Wert from Bishop Miege High School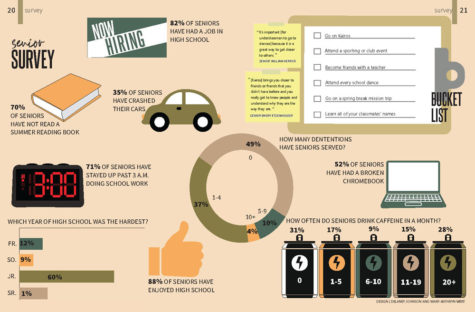 3rd Place: Sofia Hughes from Blue Valley High School

Academics Photography
1st Place: Attey Field from Mill Valley High School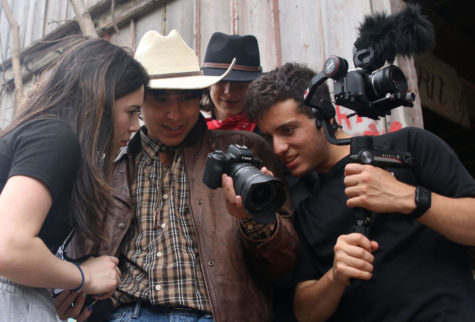 Gathered around the camera, video productions students review their footage for their May Film Fest entry Saturday, April 23. The team shot their film in the woods by an old barn, which they used as their main setting. The films will be revealed at the May Film Fest Wednesday, May 4 in the PAC. "Our movie was part comedy, part horror film. The old barn was a great location because it was kind of spooky but the woods also had some pretty areas for the romance part," senior Vinny Bruno said.
2nd Place: Lauren Myers from Bishop Miege High School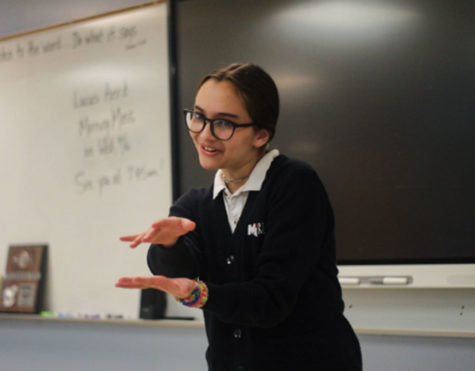 Using her hands to imitate a deep sea creature, sophomore River Ball tunes into her forensics event trying her best not to get nervous as she speaks. Ball's assignment was to memorize and present a seven-minute informational speech about the flapjack octopus, the sea pig, and the giant squid. "I get a lot more nervous than I usually would for a speech that isn't memorized," Ball said. "It really helps that it is such a safe and supportive environment to be in."
3rd Place:

Zara Thomas from Derby High School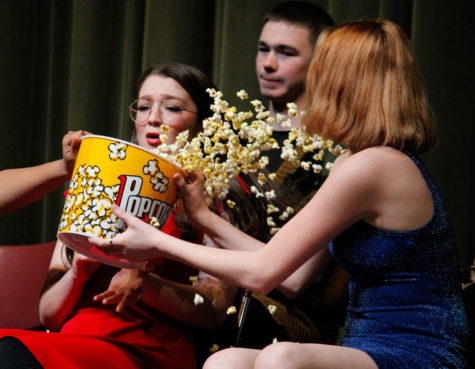 Sophomore Abrie Mong, left, and junior Sara Collins spill popcorn over themselves during a drama performance of 'One Acts: Appropriate Audience Behavior.' It was one of four performances on April 6. "I like being on stage and portraying a different person, not to mention all of the skills that come with it."
News Writing
Photo Illustration
1st Place:

Alexis Baty from Maize Career Academy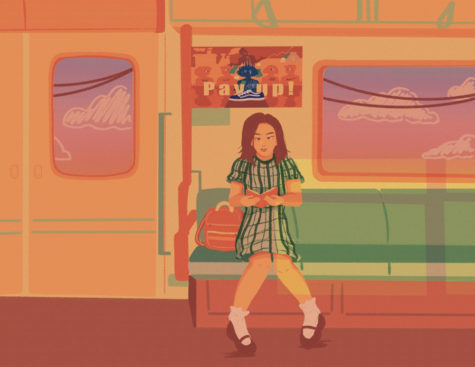 Senior Laura Shum rides the Metro to school in Hong Kong, a part of her average day. After Shum moved to Maize South her freshman year, her hour long commute to school shortened to around ten minutes, giving her more time to see her friends before class started.
2nd Place:

Charlie Trent from Blue Valley High School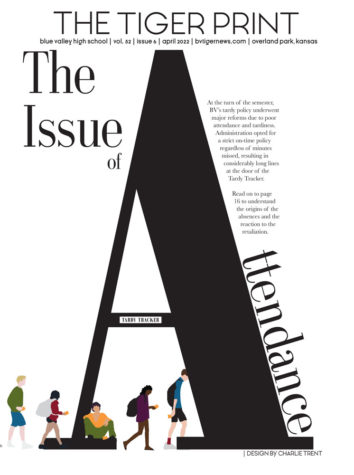 3rd Place:

Trevor Sites, Trey Reisman from Maize Career Academy

Sophomore Magnus Lind and Junior Brielle Gold go out and paintball at least once a month to help bond with each other. They go to the Edge paintball in Maize and play around 30 minutes each game and have even played against each other in a friendly competition a time or two.
Sports Writing
Sports Photography
1st Place:

Coral Netten from Olathe South High School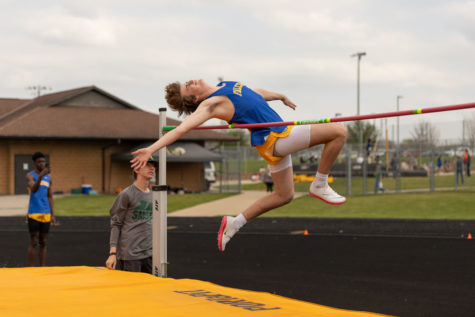 Varsity track athlete Jason Miller jumps over the 6'2" pole while doing high jump at Blue Valley High School on April 22. Miller got third in the meet and began doing high jump in middle school. "I didn't think I was going to clear 6'2" because I have never attempted it before. I was very surprised and happy that I cleared it on my third attempt," Miller said.
2nd Place:

Sydney Endicott from Maize Career Academy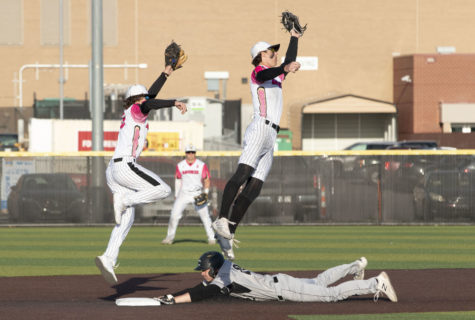 In an attempt to get a Newton Railers' runner out, Maize South senior Owen Clyne and sophomore Jack Martens jump to catch the ball that was thrown from sophomore Luke Youngdahl. Losing the first game 10-2, the Mavericks put in their all and came back in the 2nd game winning 4-3. This Pink Out themed baseball game was planned in hopes to raise money for the Shelly Poynter Scholarship.
Third Place:

Karla Segoviano from Trinity Catholic High School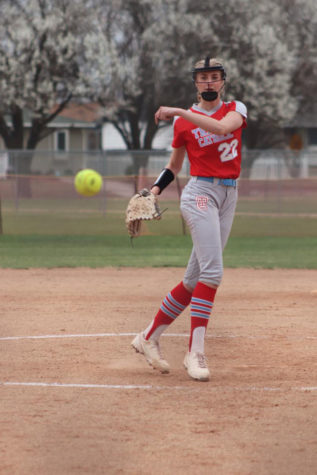 Pitching in her first home game of her senior season Apr. 5 against Marion, Lauren Galliher places her trust in her pitching abilities and her teammates. "I knew we played and competed well because the team had my back," Galliher said.
Infographics
1st Place:

Chloe Miller and Emma Clement from Mill Valley High School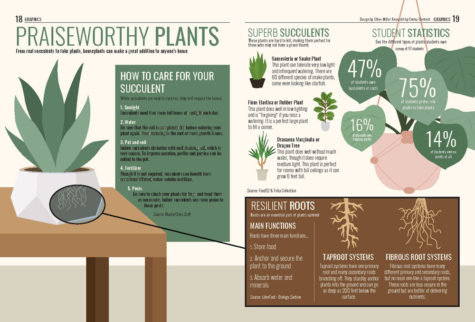 2nd Place:

Celia Condon from Shawnee Mission East High School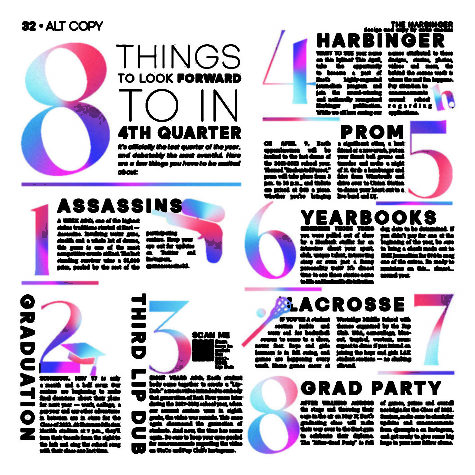 3rd Place:

Ella Marshall from Lawrence Free State High School

Multimedia Storytelling
Yearbook Layout
1st Place:

Reese Cowden from Derby High School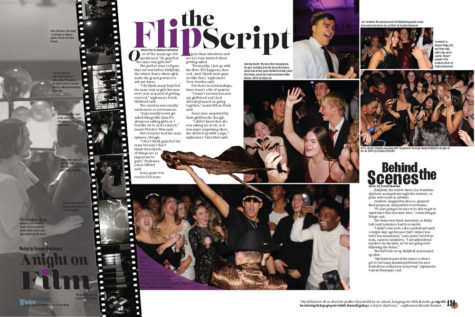 2nd Place:

Carlos Mata, Nicole Mendez from Shawnee Mission North High School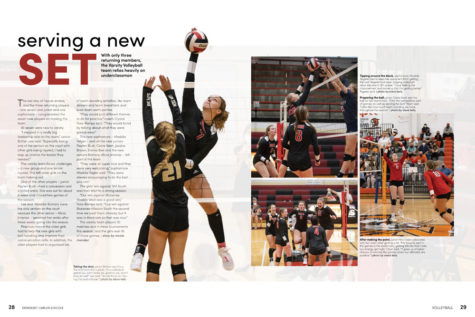 3rd Place:

Carly Craft from Maize South High School

Yearbook Copy
Portrait
1st Place:

Jacqueline Suter from Trinity Catholic High School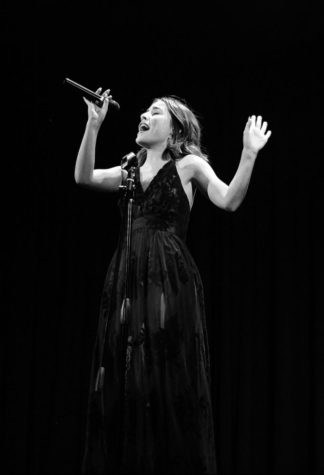 Giving her last vocal performance on the Trinity Catholic stage, Mary Little (12) sings "Tattooed Heart" by Ariana Grande at the Spring Showcase concert Apr. 27. Since transferring to Trinity as a freshman, Little has performed in over ten theater, concert, and showcase productions. "Whenever I perform, I get this amazing rush of adrenaline. It's so thrilling being able to show an audience what I can do. Performing has always been a huge part of my life–ever since I was young, and I love everything about it. There's no greater feeling," Little said.
2nd Place:

Ava McGuire from Blue Valley High School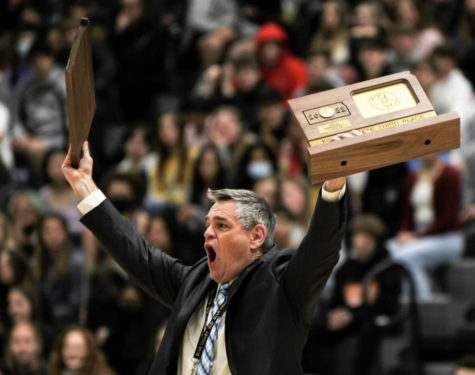 In his last pep assembly in his time at BVHS, principal Scott Bacon shares his love of his Tigers. "I know I'm not done teaching but I really am gonna miss this school," Bacon said. "There's something special about these kids that I don't think you can find anywhere else."
3rd Place: Kathryn Vizcarra from Blue Valley West High School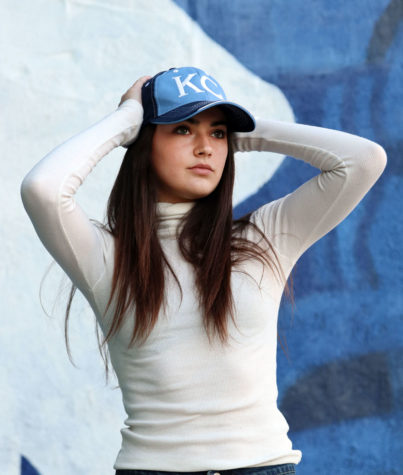 Royal Blue. Posing for a fashion pop-up shop in Prairie Fire, senior Emily Suiter, sports a Royals' cap. "When they asked me to model, I was a little intimidated," Suiter said. "But it was really fun. It was hard to not smile all of the time though."
Feature Writing
Student Life Photography
1st Place:

Reagan Zielsdorf from Seaman High School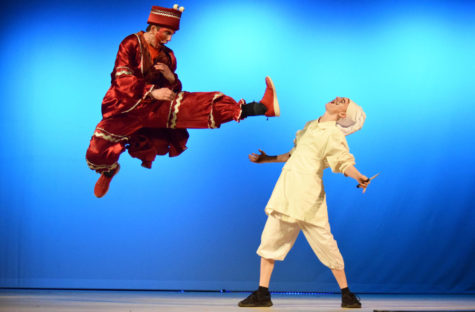 During the Les Poissons (reprise) section of The Little Mermaid: the Musical, Sebastian, played by junior Rowan Kelpin, kicks the Chef, played by junior Devin Larkin, who was previously chasing Sebastian around in an attempt to cook and serve him. Kelpin decided to tie in the skills he was taught at his taekwondo studio, where he trained and now works as an instructor, to help elevate the fight scene between the Chef and Sebastian.
2nd Place:

Aubrey Hageman from Trinity Catholic High School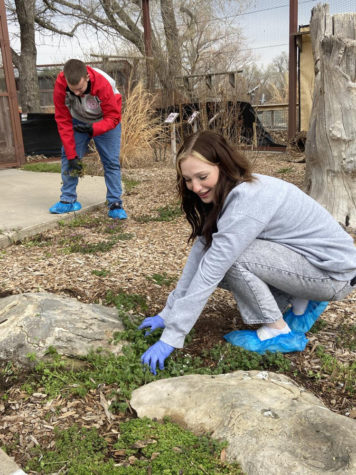 Working at the Hutchinson Zoo, Meg Birdsall (12) and Drew Baudoin (12) pull weeds on Apr. 20 in the aviary to participate in "Giving Back Day," Trinity Catholic's first all-school volunteer day. "I was definitely excited when I found out I was going to the zoo for Giving Back Day. However, I was not aware of all of the hard work that goes into the areas that the animals live in. It was an eye-opener for sure, and I definitely appreciate the zoo workers for all they do" Birdsall said.
3rd Place:

Aditi Mehra from Blue Valley West High School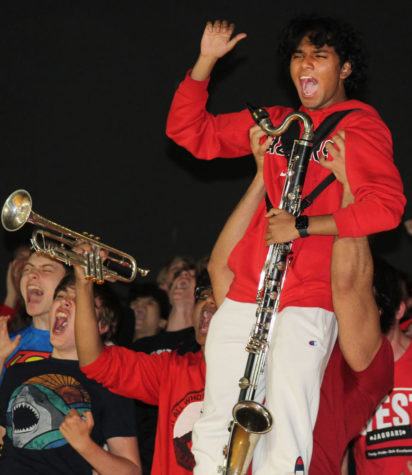 Lifting Spirits. Showing the unbridled spirit of the Pep Band on April 22, junior Mark Michael shouts while holding his Italian saxophone. Junior Jude Giron held Michael up to increase the band's chances of winning the spirit competition at the final assembly of the school year on April 22. "It was hard to believe that this was the last assembly, I wanted to give it all I could," Michael said.
Opinion Writing