The KSPA August/September monthly contest has spotlighted the exceptional talent within the Kansas high school journalism community. Mill Valley High School, Lawrence High School and Shawnee Mission East High School emerged as the standout performers, showcasing their exceptional skills and talent in various categories.
Mill Valley High School demonstrated their creative prowess by clinching first place in "Photo Illustration," "Feature Writing" and "Multimedia Storytelling." Their ability to excel in both visual and written storytelling categories is a testament to their well-rounded journalism program.
Lawrence High School stood out by securing first place in "Academics Photography," "News Page Design," "Infographics" and "Video News." Their diverse range of victories demonstrates their proficiency not only in capturing academic life through photography but also in designing impactful news pages, creating compelling infographics, and producing engaging video news content. Their success in multiple categories underscores their dedication to comprehensive journalism excellence.
Shawnee Mission East High School, meanwhile, showcased their journalistic finesse by claiming the top spot in "Opinion Writing," "Feature Writing" and "Multimedia Storytelling." Their strength in both written journalism and multimedia storytelling illustrates their ability to provide thought-provoking perspectives and engaging narratives across different platforms. These three schools have demonstrated their well-rounded expertise, creativity and commitment to journalistic excellence in this month's KSPA contest.
Yearbook Copy
Opinion Writing
Student Life Photography
First place: Student Life Photography: Georgia McCabe: Shawnee Mission South High School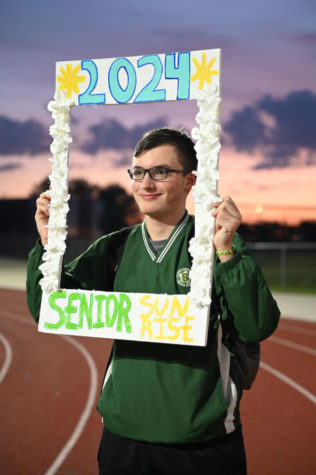 Posing with the polaroid cutout, senior Mark Ziegler smiles for the KSMS video shoot during the senior sunrise event. Seniors gathered on the football field September 20 for donuts, photos and time to hang out.
Second place: Student Life Photography: Idalia Corral: Ulysses High School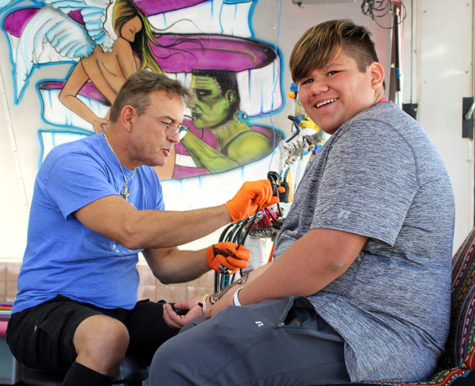 STATE FAIR SPOOF. In an attempt to prank a customer's uncle, an artist at the Kansas State Fair finishes an airbrushed tattoo on Issac Pale from Ulysses on Sept. 12. Pale, whose uncle is also a tattoo artist, told his uncle that "a sketchy guy at the state fair gave me a tattoo," Pale said. "He could tell they were fake."
Third place: Student Life Photography: Brady Knutson: Olathe West High School

WONDERFUL WIN At the second homecoming pep assembly of the week on Sept. 21, junior Jacob Zwart is presented with a sash for his victory as junior homecoming royalty. The junior boy winners experienced something unusual at the crowning: a tie. Zwart was one of two boys to win the title for the junior class, making his victory even more memorable.
Photo Illustration
First place: Photo Illustration: Jules Shumaker: Mill Valley High School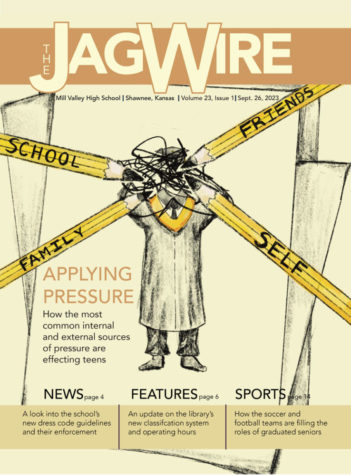 Mill Valley is known for its success in sports, activities and academics. But that success comes with intense pressure from all sides. The question is how students handle the pressure cooker that is Mill Valley?
Second place: Photo Illustration: Katie Kennedy: Blue Valley High School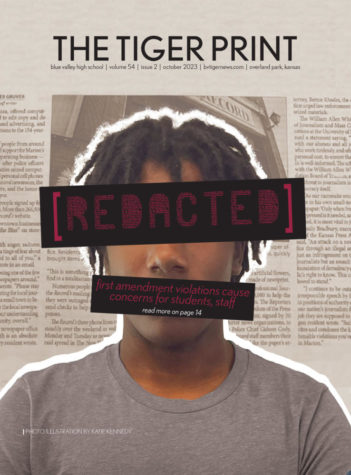 "Censorship sows hate into the world; the less you allow disparaged communities to speak the more hate enters the world." – Harris Jones, 12
Third place: Photo Illustration: Lily Norton: Lawrence High School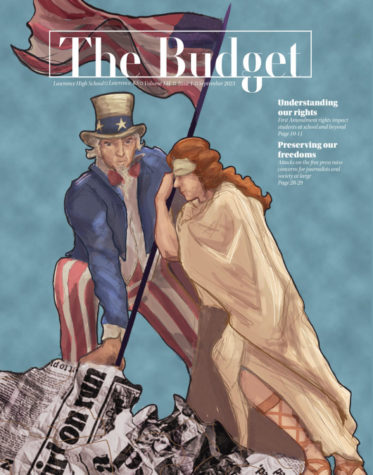 Despite their efforts, the government does not have the right to silence people thanks to the rights granted in the First Amendment.
Feature Writing
News Writing
Academics Photography
First place: Academics Photography: Annamarie Torres: Shawnee Mission Northwest H.S.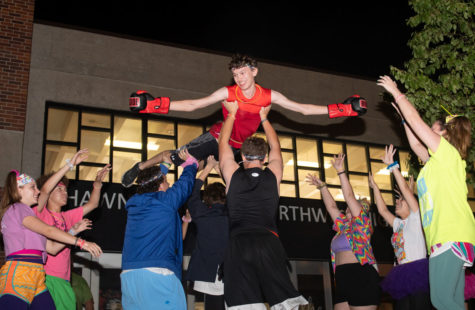 During the Northwest Media Kickoff event, senior Nick Roberts gets lifted up by the 1980's team Aug. 26 at SM Northwest. The song "The Time Of My Life" from the movie "Dirty Dancing" was playing at this time. "In the movie Dirty Dancing, they performed the same lift but with less people," Roberts said. "Since the movie came out in the 80's, we decided that it would fit in the performance."
Second place: Academics Photography: Maggie McCauley: Bishop Miege High School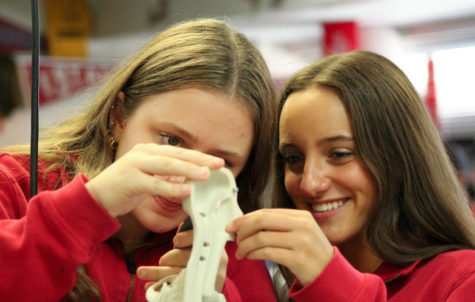 In Human Body Systems, juniors Parker Benz and Stella Ismert build on a model to make a visual of the temporal muscle in the head, eyes and mouth in the first year the class is being offered. "I decided to take this class because I want to major in nursing, so I wanted to get a feel for that job," Ismert said.
Third place: Academics Photography: Evan Brewer: Olathe East High School
In science teacher Erin Morely's second hour student naturalist class, Jeffery,the bearded dragon, unintentionally poses for the camera. Each student is assigned an animal to care for throughout the semester.
Portrait Photography
First place: Portrait: Luke Wood: Mill Valley High School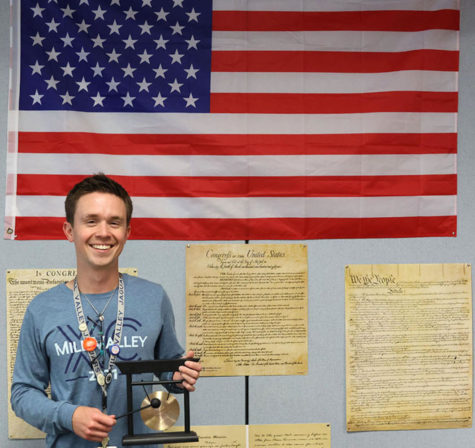 With the American flag and Constitution hanging proudly on his wall, first-year social studies teacher Carter Sebasto holds a gong that he was given as a gift. Given to him as a gift from a fellow teacher, Sebasto said the gong represents several things in a new career as an educator. "[My friend] said that I needed it for school to keep the kids in line. Everything I've ever accomplished has been the result of other people supporting me or giving me advice which makes things like that meaningful," Sebasto said.
Second place: Portrait: Eilley Cost: Trinity Catholic High School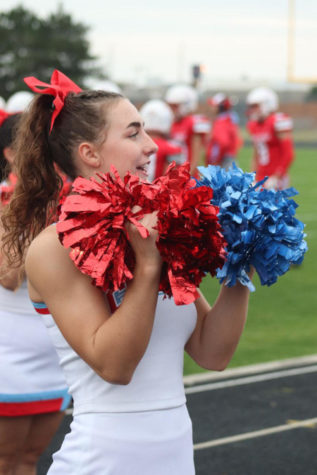 Cheering at TC's first home game Sept. 15, veteran cheerleader Addi Crockett (11) works the crowd. "I always love cheering, and home games are better because there are more people in the stands."
Third place: Portrait: Issac Pale: Ulysses High School

FIRST TIME FAIR VOLUNTEER. Filling time before his volunteer shift at the Birthing Center, Ulysses FFA member Trace Phelps explores the agriculture vendors at the Kansas State Fair on Sept. 12. "I was looking at livestock trailers out of curiosity," Phelps said. "I don't have enough money for them."
Sports Photography
First place: Sports Photography: Chloe Cook: Lawrence Free State High School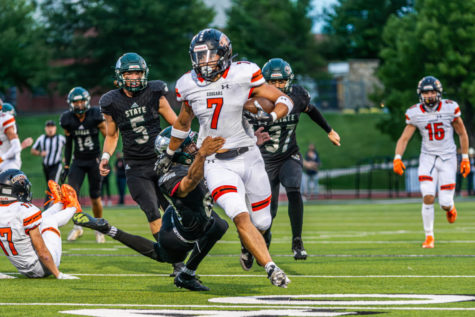 Sprinting down the field ball in hand, Shawnee Mission Northwest senior Gabe Hoskins barely escapes Free State junior Yusef Iskandrani. Free State Varsity Football played SMNW, winning, 41-12.
Second place: Sports Photography: Liberty Smith: Derby High School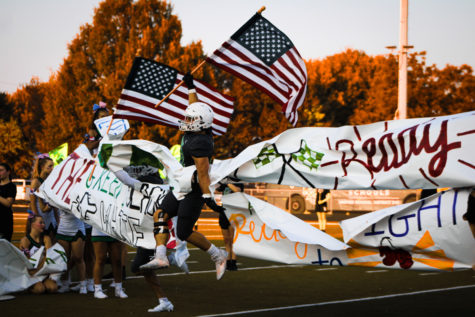 As the cheerleaders hold the banners on the football field before the home opener on Sept. 8, senior Mason Hopper leaps through holding an American Flag. It was Military Night, which was special for Hopper. "My favorite part about football is being able to play the sport — I love playing with my best friends — and being able to honor our military since a lot of our community are a part of the military," he said.
Third place: Sports Photography: Alex Sajna: Shawnee Mission East High School

Junior Grace Demetriou and junior Clara Burdick perform in the halftime show of the varsity football game, titled "Door 13", referencing the TV show The Twilight Zone. The performance involves a front row of Lancer Dancers who perform together, waving flags in a sweeping motion and moving from side to side. Behind the dancers are the marching band, who march in a uniform pattern. The Lancer Dancers practiced all their choreography as a team and rehearsed on Thursday mornings from 5:30-8:00am with the marching band to prepare. "The halftime performance took hours, if not tens [of] or even hundreds of hours of practice just to get ready for this whole thing," junior Max McMahon said, who plays the saxophone. "We were practicing before school every day, except Thursdays and over the summer as well for two weeks."
Sports Writing
Yearbook Layout
First place: Yearbook Layout: Lilith Rourke: Derby High School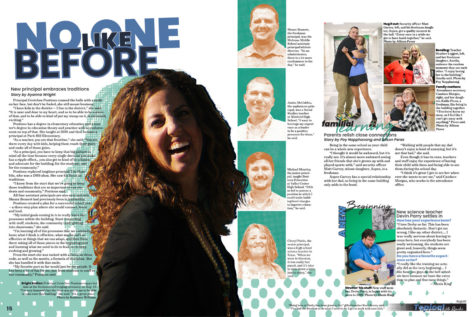 Second place: Yearbook Layout: Joselyn Steele: Derby High School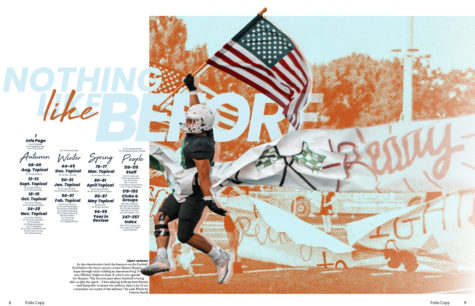 Third place: Yearbook Layout: Willow Marable : Lawrence Free State High School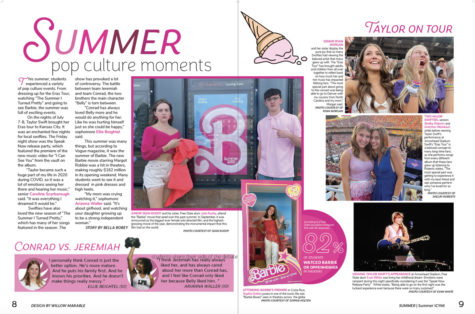 Infographics
First place: Infographics: Brandon Parnell: Lawrence High School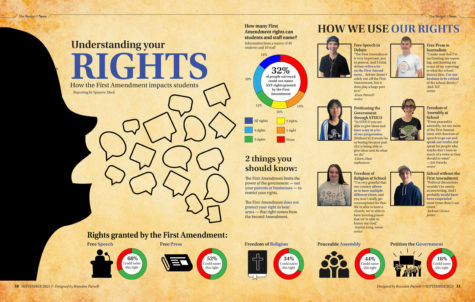 Second place: Infographics: Emma Clement, Olivia Peters: Mill Valley High School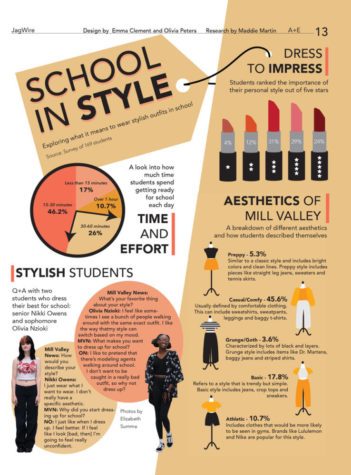 Third place: Infographics: Addie Moore: Shawnee Mission East High School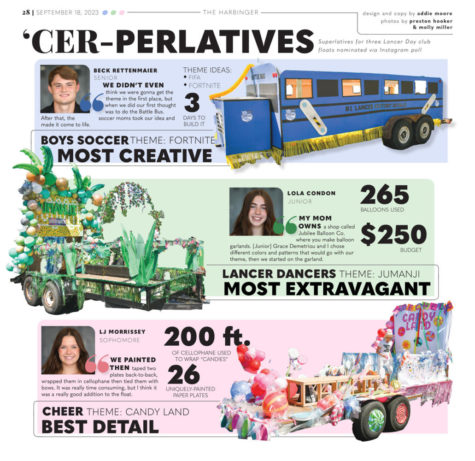 Video News
News Page Design
First place: News Page Design: Koen Myers: Lawrence High School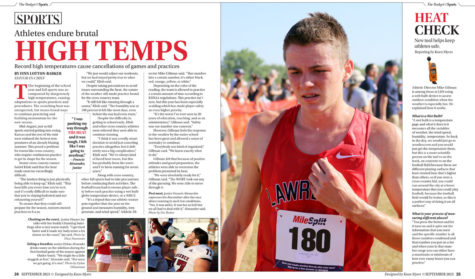 Second place: News Page Design: Lyla Weeks: Shawnee Mission East High School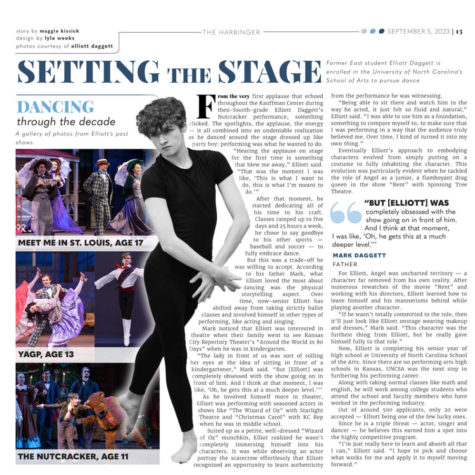 Third place: News Page Design: Jules Shumaker: Mill Valley High School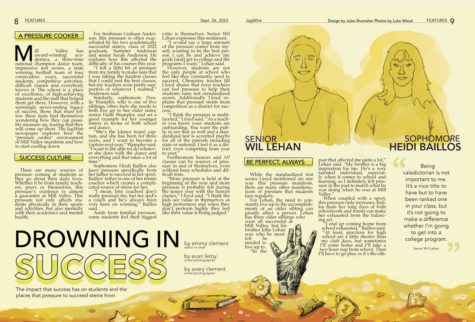 Multimedia Storytelling
Video Production