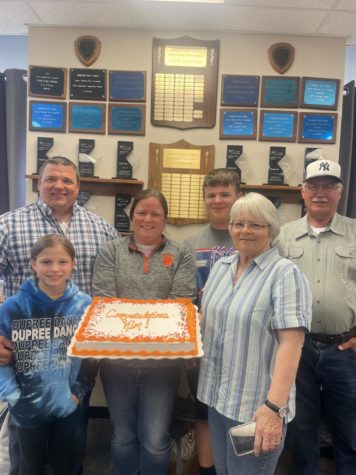 In recognition of her 21 years of journalism education and service to KSPA, Kim Isbell was announced as an inductee into the KSPA Hall of Fame during a surprise presentation at Humboldt High School on April 12, 2023.

Isbell was the long-time adviser at Humboldt High School where her publications students earned nearly every possible award from KSPA, including many Sweepstakes awards for being the top school in their enrollment classification.
In 1995, KSPA became the first state organization to create a Scholastic Journalism Hall of Fame in order to honor its own excellent members. Today, 38 names have been added to the permanent Hall of Fame plaque that hangs in the KSPA office in KU's William Allen White School of Journalism.
The KSPA Hall of Fame was begun as a way of honoring members and friends of high school journalism in Kansas who have contributed to the profession both at the state and national levels. The nominee will be judged on the following criteria: 1) Noteworthy service to KSPA and to the education of student journalists; 2) Outstanding personal achievement in student journalism; 3) Contribution to the field of student journalism.
Kim Isbell
Former Humboldt High School Adviser
Isbell was nominated by a collection of teachers and scholastic journalism professionals from around the state. Below are excerpts from their letters:
From Hailey Phillips, Parsons Sun assistant managing editor:
Mrs. Isbell takes great pride in her "jerds" (journalism nerds). She thrives in helping all her students who enrolled in her classes succeed. She has taught hundreds of students the fundamentals of journalism, including photography, newspaper, yearbook, advertising and more. I personally witnessed the tremendous impact Mrs. Isbell had on countless young journalists like myself. Without her, I would not be in the position I am in as assistant managing editor of the Parsons Sun newspaper. She believed in me, she coached me, she mentored me and also gave me sound life advice in addition to her extensive journalism knowledge she passed on to me.
Mrs. Isbell made a direct impact on me to be able to succeed as a journalist. She taught me the importance of critical thinking, ethical reporting and the importance and power of storytelling. Going to her classes, I knew I loved writing, but I didn't know much about journalism. She found me to be a great fit in the realm of newspapers. Over the course of my three years as her student, I learned all the skills I needed to be successful in college as well as in the professional world as a journalist. She always made sure her students were prepared long after high school graduation.
Words of nomination from Linda Drake, Chase County Jr.-Sr. High School journalism adviser:
I have known Kim since she first began teaching at McPherson High School, the school where Jackie Engel herself taught for so many years. I watched her develop a strong newspaper program at that school before she married and moved on to Humboldt High School. Since taking over that program in 2003, she not only continued the strong yearbook and newspaper presence there but she implemented the school's first online newspaper website and its first broadcast channel. Kim's expertise also led the district to use her students to do all of the district's school and sports photography, establishing a class that operates its own business.
All of her publications demonstrated her support of the First Amendment rights, as do her students' eagerness to cover topics that might challenge other schools' administrations. She utilized some of the best presentations on law and ethics to make sure her students have great respect of the rights and responsibilities of student journalists.
Other words of nomination:
Under Isbell's advisement Humboldt High School has won 12 consecutive state championships.
Ten years ago, I was fortunate enough to participate in the first three wins. Isbell created a safe and welcoming environment for her students. Her classroom became a second home to many students, myself included. Newspaper and yearbook nights were filled with family dinners, random dance parDes when we needed a reprieve, and plenty of hard work. We worked hard and played harder.
We were encouraged to ask questions, explore new techniques, develop new skills, and were challenged to try new things. Isbell inspired many of her students and gave us all the confidence we needed to compete and succeed. We embraced being JERDs and we took great pride in our hard work.
Because we were able to succeed, we were also able to grow. I was blessed to see the photography department grow, the newspaper and website flourish, and witness the yearbook break design boundaries. These achievements could not have been possible without the support of Isbell. She embraced our ideas and spurred our creativity.
Words from the selection committee:
"A perennial student advocate, Kim Isbell has been teaching, mentoring and inspiring student journalists for more than 20 years. During this time, her students have flourished as writers, editors, photographers and designers, earning many awards and accolades for their work. But Isbell's passion for teaching and learning doesn't stop at her classroom door. She has spent countless hours teaching and mentoring other Kansans as a graphics and photography instructor at Allen Community College and through a variety of workshops, camps and conventions."
The KSPA board and staff congratulate Kim Isbell for her well-deserved place on the KSPA Hall of Fame plaque!