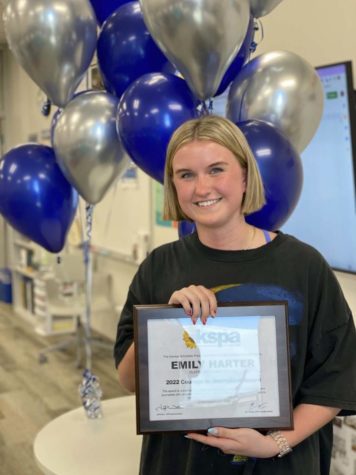 The Kansas Scholastic Press Association congratulates the winner of the 2022 KSPA Courage in Journalism Award: Emily Harter of Olathe West High School.
Harter's nomination materials describe how she wrote an opinion piece, published in December 2021, that recommended her school abolish a hand gesture that was used as a symbol of school pride — but also as a symbol of white pride. As her column said, "the symbol is also commonly associated with Proud Boys and far right organizations."
In response to the piece in the Owl Post online, Harter and the staff received hateful direct messages through social media. Also, according to Harter's adviser Julia Walker, "Offline, a handful of administrators and staff members voiced disapproval of Emily's article. They were unhappy about how it was written and researched, and they didn't think (it) should have allowed it to be published as it was."
However, the opinion piece and meetings with administrators created change. Harter writes,
"They came up with a nonoffensive sign that students could easily switch to from the original. … The week after my article was posted I attended a basketball game at my school unsure of what to expect when fans cheered for the team. To my amazement, the entire basketball team and fans got up and used the new hand sign when singing the alma mater at the conclusion of the game and the scene gave me chills."
Through this work, Harter earned the fourth annual Courage in Journalism Award from KSPA, an award founded in 2019 on the 50th anniversary of the monumental Tinker v. Des Moines decision in the Supreme Court.
In a letter of recommendation, Olathe West English teacher Aaron Schwartz wrote, "I know that writing this piece deeply affected Emily, and while unfortunate, has also made her more resolute in presenting truth in writing. She continues to write for the Post, and continues to ask our student body to reckon with hard questions about truth."
The judge for the award said:
Emily Harter's piece in The Owl Post exemplifies the importance of school newspaper as a place to generate conversation — even when that means prying open the lid on a topic that many in the community do not welcome. But school newspapers can only serve such a function when students have the courage to use it to this effect.
Harter showed that courage.
In today's age of social media, praise and criticism fly fast. Anyone sharing their opinion in a prominent way online invites upon themselves the potential for a swift public response that can be overwhelming.
Harter wrote something that struck a nerve running through her school, and endured criticism for it. The classroom and faculty conversations and changes that followed demonstrate her piece's impact.
KSPA executive director Eric Thomas visited Olathe West High School to make a surprise announcement April 4 and to present Harter with the award. Harter's adviser Julia Walker, fellow teachers and administrators also attended the presentation.
The KSPA board and staff again congratulate Harter on earning the 2022 Courage in Journalism Award.